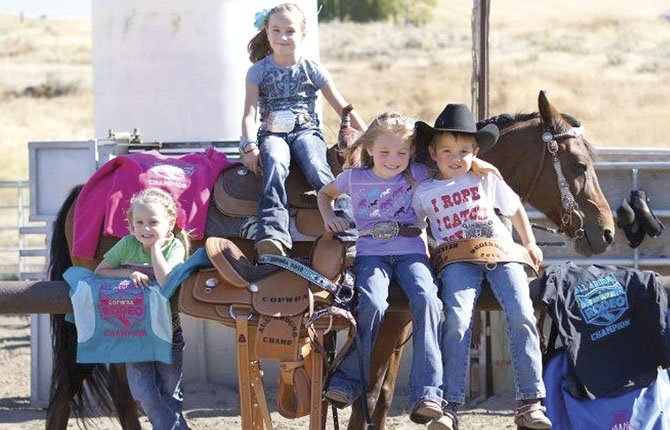 A quintet of determined peewee rodeo stars is coming off an award-winning 2012 season – they are back for more this summer.
Starting Saturday, five young athletes from Dufur and The Dalles are making the trip to Prineville for continued success on the Central Oregon Peewee Rodeo Association slate in such events as barrel racing, poles, breakaway roping, goat tying and other roping events.
Lead instructor Brandy Schanno headlines this group of returning champions and newcomers, highlighted by barrel racing champion and saddle winner, Madi Malcolm (eight-years old, from Dufur), all-around champion and saddle recipient, Nellie Wilkinson, (5, from The Dalles) and reserve all-around winner, Klayton Schanno, (5, from Dufur).
Along with that trio, Ava Malcolm (4, from Dufur) brings her expertise to barrels, poles and tying and Morgan Brumley (12, from Dufur) is new to the fray this season and brings with her some extensive knowledge in both barrels and poles.
"This is such a good group of kids," said Brandy. "They practice their little hearts out and they ride good. They were big winners last year, so their expectations for this year are set pretty high."
Brandy said practice is important for success, so they work on everything — roping, tying, barrels and poles — so they keep their game sharp.
Most importantly, though, she said establishing a good camaraderie with their horses is another element that should not be overlooked.
"You cannot just get on a horse and go," Brandy said. "The horse has to like you and they have to like what they are doing. There is a bond built. These horses take care of these little guys and they go out there and work for them because they like the kids. They are well-mounted. Their equine athletes are amazing. That is why they do so well."
As part of the relationship process, Brandy credited the families who are involved, dedicating countless hours to the cause.
It is a collaborative effort through and through.
"That is how we go about things. We have a great group of competitive and hard-working kids and positive parents who are supportive and selfless. Just like the kids, who practice and work their hardest, it is about personal commitment. Everyone here is committed."
The rodeo athletes build points in every rodeo.
At the final meet, they compete for the all-around crown and the first-place buckles and saddles in each event.
After this weekend, the rodeo team hits the dirt again for a two-day meet on May 11-12, and then they take a short break until June, further on into July until the end of August for the finals. They will travel to Prineville, Redmond and Clackamas, Washington for competitive events.
The ultimate goal is to win a saddle.
Schanno said it is a special moment to see a kids' eyes light up when they hoist a winning saddle for their work.
"I am super excited. I love seeing these kids go and try their hardest," Brandy Schanno said. "We are going to go out there and do our best and our best is going to be good enough. If we win, we win, and if we finish second, then that is OK too. It is all about building and getting better every time we get out there."