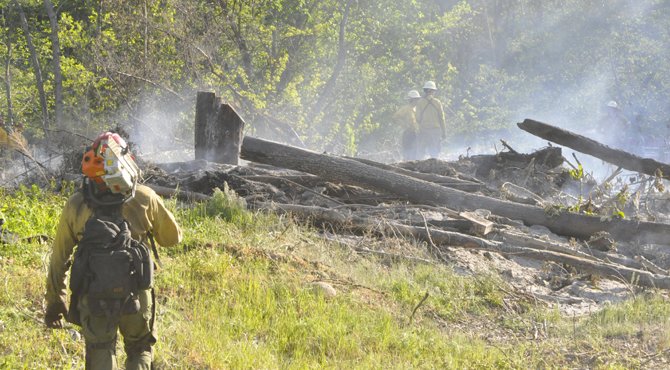 The Dalles — Hopefully not a glimpse of worse to come, Mid-Columbia Fire and Rescue called on fire agencies from around the region to help with simultaneous fires on Sevenmile Hill and Mill Creek this afternoon, Friday, May 3.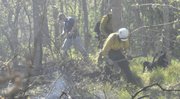 Temperatures were in the mid-80s at around 2:30 p.m. when the first fire was reported near the home at 2017 Mountain View Drive on Sevenmile Hill. The fire burned about four-tenths of an acre in oak woodland, largely burning grass and leaf litter, said Kiel Nairns of the US Forest Service National Scenic Area District.
MCFR responded, as did Mosier Fire Department and the Oregon Department of Forestry. The fire was quickly knocked down and by 4 p.m. firefighters were lining the fire and mopping up.
Meanwhile, at 3:10 p.m. report came of the second fire on the Phil Hoffman property in the 6000 block of Mill Creek Road. The fire started when a burn pile got out of control, spread laterally along the creek then got hot enough to spot across the creek and spread to the nearby hillside.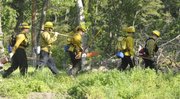 "It worked its way up the hill 100 or 150 feet," said Bob Palmer, fire chief for Mid-Columbia Fire and Rescue. The fire burned about one-eighth of an acre of heavy brush and scrub oak.
The fire also burned into five good-sized cottonwood trees that were hollow inside. The trees had to be cut down.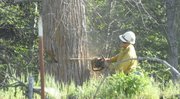 Palmer said fire danger is increasing.
"The fuels look green on top, but they're dry underneath," Palmer said.
About 20 firefighters from MCFR, Oregon Department of Forestry, the Forest Service, Dufur and Dallesport responded to the Mill Creek Fire, while Hood River manned the station.
"It's kind of odd that it would have required this many resources," Palmer said. "Typically, this time of year fires don't burn as aggressively."
But the conditions, including the hollow trees and steep hillside also meant added challenges.
Firefighters were mopping up the Mill Creek fire by about 5:30 p.m.