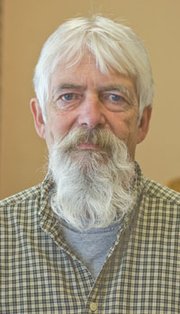 The Dalles — Bill Wolfe retired last year after 37 years with the fire district, and is now seeking a post on the Mid-Columbia Fire & Rescue District board.
He is seeking Pos. 4, now held by Harry Larsen, who is seeking re-election. (See related story). Ballots go out Friday, May 3 and the election is May 21.
He's running because "I've been involved so long I think I've got a lot of knowledge that would benefit the district. I'd like to give back a little more."
Wolfe would like the fire district to focus on "more stable funding and improve their training program and I'd like to see more open communication."
The fire district recently completed a strategic plan that addresses those areas.
Wolfe said he's read the strategic plan, but did not attend the sessions that went into making it.
"I think there's some good points in that plan." He said the key was to ensure they were "followed through on."
Asked why he believed there was a communication issue at the district, he said, "one of the problems I see is there's very little avenue for the current board to get information about what's happening on a daily basis. There's very little communication between the volunteers and the board and the paid staff and the board, other than through the administration. I think a little more open communication would solve a lot of problems."
Wolfe would like to address funding issues by seeing the district "expand a bit. I think down the road a merger with Mosier would be a good idea."
As for training, he said the job requires "constant training and I would like to see them putting on more classes for the guys."
He'd like more hands-on training and more training where they won't get interrupted by calls. Part of the problem is a lack of staffing. He said the department has fewer paid staff now than when he joined in 1975. And the job has become more demanding since then, too. When he started, the city of The Dalles did administrative work for Wasco Rural. Then they split in 1978 into two fully separate entities. They merged in 1998.
Wolfe, who was born and raised in The Dalles, started working summers at the then Wasco Rural in 1975, when he was in college studying electronics. Given the chance to take a permanent post, he jumped at it.