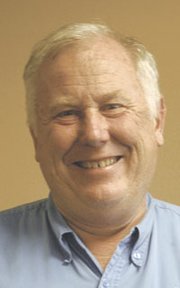 Harry Larsen is seeking his fourth term on the Mid-Columbia Fire & Rescue board, but this is his first time facing competition for the post.
He was appointed in 2005 to fill a vacancy, and has run unopposed two times since.
His challenger is retired firefighter Bill Wolfe (see related story). Ballots go out May 3 and the election is May 21.
Before Larsen joined the fire board, he served for years on the budget committee of the then-Wasco Rural Fire District. That district merged with The Dalles Fire Department in 1998.
He's also served on the City of The Dalles Airport Commission for about 10 years.
"I've got a lot of experience with working with boards, and I've got a degree in business administration for Portland State University," he said.
He's been working for 35 years in parts, service and sales for the Caterpillar Company, which was locally owned under Halton Tractor and is now Peterson Tractor.
Larsen decided to run for the fire board when the airport commission changed its format and became a joint airport commission between Klickitat County and The Dalles.
Larsen has not been a volunteer firefighter, but has worked solely on the budget and policy side of the department, he said.
Asked to describe what he saw as the key issues facing the board, he said, "I want to provide the services that are needed, but I'd like to be able to maintain good quality equipment for our firefighters to use so they can safely do their job. I'd like to make sure that the firefighters are taken care of and perform what the citizens are expecting of a fire department."
"I think it basically comes down to providing the fire services needed with a limited amount of revenue that is out there."
The fire district had a contentious union contract negotiation a year ago.
Asked if union contentions were easing, Larsen said, "There's always issues. There's always something. Is it any worse or any better than it has been? I don't know. But there's always differences of opinion. There's challenges, and its something we have to work through."
"We've had more issues over the last few years probably because we've had to hold the line because of limited funding. And I don't think anybody would want us to go out for [additional funding through an operating levy.]," he said.
"You look U.S.-wide and there's a lot of unhappy unions right now. And it basically comes down to, I think, money. I think we're in a tough time right now and we just need to work through things to try and give as much as we can to keep the whole system running and sometimes, not everybody's happy."
"It's all a balancing act and my goal is to try to do the best we can with what we've got and provide the services that the community expects."