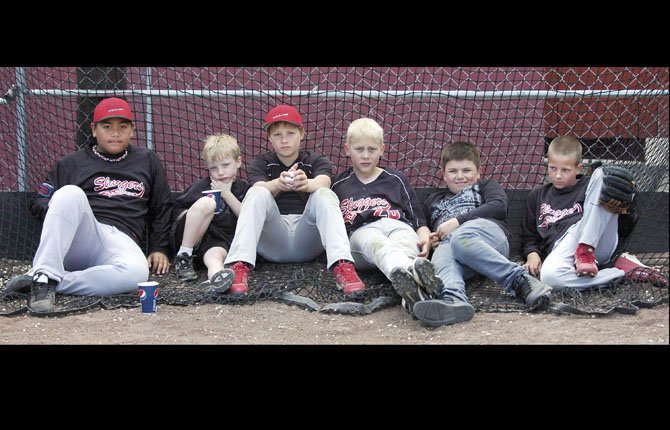 JBO Youth Baseball Tournament
Saturday pool play schedule
Game 1: 8:45 a.m. on Field 1 The Dalles vs. Lincoln City
Game 2: 9 a.m. on Field 2 Lincoln vs. Silverton
Game 3: 9:15 a.m. on Field 3 Hood River vs. TD--Townsend
Game 4: 11:15 a.m. on Field 1 Reedville vs Bend Jr Lava Bears
Game 5: 11:30 a.m. Field 2 Lincoln vs. Lincoln City Tigers
Game 6: 11:45 a.m. on Field 3 The Dalles vs. Silverton Foxes
Game 7: 1:45 p.m. on Field 1 TD--Townsend vs. Reedville
Game 8: 2p.m. on Field 2 Hood River vs. Bend
Sunday Bracket Play
Game 1: 9 a.m. on Field 1
Seed 1 vs. Seed 8
Game 2: 9 a.m. on Field 2
Seed 2 vs Seed 7
Game 3: 9 a.m. on Field 3
Seed 3 vs Seed 6
Game 4: 9 a.m. on Field 4
Seed 4 vs Seed 5
Game 5: 11:30 a.m. on Field 1
Winner Gm. 1 vs. Winner Gm. 3
Game 6: 11:30 a.m. on Field 2
Winner Gm. 2 vs. Winner Gm. 4
Game 7: 11:30 a.m. on Field 3
Loser Gm. 2 vs. Loser Gm. 4
Game 8: 11:30 a.m. on Field 4
Loser Gm. 1 vs. Loser Gm. 3
Championship: 2 p.m. on Field 1 Winner Gm. 5 vs. Winner Gm. 6
3/4 Game: 2 p.m. on Field 2 Loser Gm. 5 vs. Loser Gm. 6
5/6 Game: 2 p.m. on Field 3 Winner Gm. 7 vs. Winner Gm. 8
It is still very early in the 2013 season, but 12U Sluggers players Jordan Wetmore and Tyler Vassar feel like the best is yet to come.
Coming off a 1-2-1 finish at last weekend's Cherry Festival.
Junior Baseball Organization Tournament in The Dalles, there were learning lessons to take out of this performance.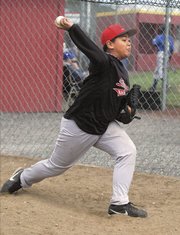 "We are not totally down about how we did in this tournament, because now we know what we have to work on to be able to play with some of the harder teams," Wetmore said.
In two days of action at Kramer Field, the Sluggers, coached by Jeff Mathisen, split the first two games with a 6-3 loss to Sherwood and a 7-7 tie against the bend bears.
Against Crook County, the Sluggers started strong and pulled away with a 13-5 win to end pool play.
Pitchers Jake Roetcisoender and Caden Mathisen combined for six innings of work, as Mathisen closed out the final three frames to keep Crook County at bay.
However, the Sluggers tournament run ended in an 11-9 setback Sunday morning versus the Academy Devils.
In that finale, the Sluggers got a home run from Sam Thalhofer and Ben Nelson scored on a passed ball to get the game close, but the Sluggers could not get any closer.
"In the last inning, we made mental and physical errors, which lost us the game," Wetmore said. "Every team was beatable, but we just had 'we-beat-ourselves-moments.'"
Wetmore, Billette and Vassar all came close to hitting home runs and teammates Caden Mathisen and Mac Abbas stroked triples.
This group, which plays in the American classification, has been playing together for between three to five years and has won several games and tournaments together.
Along with Nelson, Roetcisoender, Vassar, Abbas, Mathisen and Thalhofer, Kurtis Billette, Andy Carlock, Josh Johnson and Louis Red Cloud make up the rest of the roster.
Wetmore says this team has chemistry and complements each other well.
Vassar added that this group has several aspects of the game they need to iron out in order to become an elite faction on the JBO circuit — one of them is waking up in the morning ready to play sound baseball.
"We need to work on our defense and hitting," Vassar added. "Our hitting was pretty good at some points, but our defense was pretty poor in some of our games. We need lots of practice. That is all it is. We will find a way to make it all work out."
Vassar still believes he is part of one of the best all-around teams in the state.
They have the rest of the summer to work on the fundamentals to cement that claim.
"We were one of the most talented teams in this tournament, we just didn't play as well as we know we can," Vassar said.
The other 12U Sluggers team, coached by Joe Abbas, went 0-3-1 over the weekend, losing 10-8 Sunday morning to Sherwood.
This team tied with Crook County in a 6-6 final, lost to Academy 14-2 and lost 9-6 to Vancouver, Wash.
Both teams hit the field again for a Mother's Day Tournament in Portland.
There will be a 10U tournament with the Sluggers hosting the nine-team JBO Knuckleball Classic.