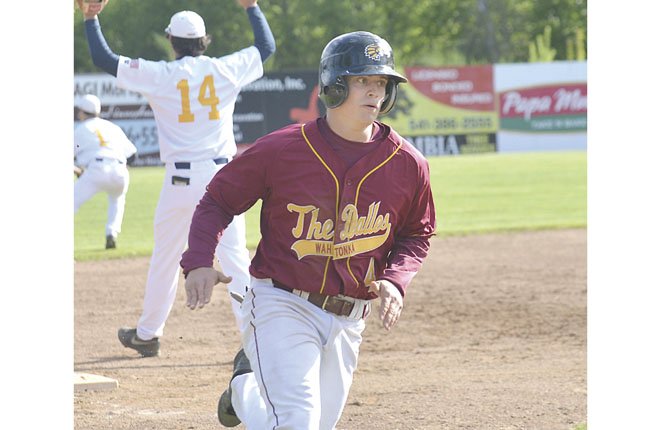 No. 4 Eagle Indians scatter four hits in 6-1 road setback versus Hermiston
The Dalles Wahtonka was cruising right along on an impressive six-game winning streak with two games left on the regular season schedule.
Friday night, they ran into a roadblock named Camran Pollick.
Hermiston's ace right-hander tossed 5 2/3 innings of three-hit ball with eight strikeouts and the No. 6 Bulldogs evened the season series at 2-apiece after a 6-1 victory Friday night in Columbia River Conference baseball play in Hermiston.
The one run and four-hit Tribe effort was the lowest for one of the state's top offenses since a 4-0 shutout loss to Southridge 32 calendar days ago on April 2.
"Pollick threw for Hermiston and threw well," said TDW head coach J.R. Runyon. "We weren't able to make the adjustments early on to get to him."
Hermiston gave Pollick all the offensive support needed in the first three innings off TDW starter Dakota Walker.
The Bulldogs (13-6 overall, 6-4 league) scored singles runs in the first two frames, and then tacked on two more runs in the bottom of the third to swell the lead up to 4-0.
Finally, in the fifth inning, the Bulldogs added a pair of insurance runs off TDW reliever Connor Mathisen to make it 6-0.
TDW would add a single run in the sixth, but could not inch any closer against the Bulldog pitching staff.
Nolan McCall, Steven Bartells, Kevin Henderson and Austin Wilson had the only Eagle Indian hits.
Justin Sugg and Kaci Kiser went hitless in three at-bats with a walk each, and Mathisen went 0 for 1 with three walks.
Along with the four singles, TDW received five walks and a pitch hit Wilson, but they stranded seven base runners.
"(We) had too many free passes defensively and couldn't seem to get the bats going offensively," Runyon said. "We had several opportunities to get some runs in but couldn't quite get it done today."
Now that their season-high winning streak is by the wayside, Runyon is hoping this loss can get his team re-focused and re-energized for the final stretch of the regular season.
"We will bounce back from this," Runyon said. "Sometimes it takes getting knocked down to remind you how to fight."
The No. 4-ranked Eagle Indians (17-6, 8-2) look to get back on track with a home set versus Pendleton (10-13, 2-8) at 4:30 p.m. Tuesday for senior night.
The No. 15-ranked Buckaroos were upended by No. 12 Hood River Valley (11-12, 4-6) 12-3 on Friday night.