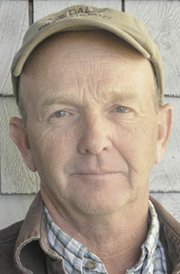 The Dalles — School board candidate Dean McAllister isn't waiting to see if he's elected before digging into the issues.
The candidate to represent Zone 2 in North Wasco County School District 21 has been attending school board meetings, the Oregon School Boards Association trainings and the Achievement Compact Committee meetings. He is joining the district's budget committee this year and is reading the book "Schools Cannot Do it Alone" along with the school board.
"I was surprised at how much District 21 is doing," McAllister said.
He said many district employees and school board members are working "like farmers," staying for evening meetings after a full day of work. He volunteers in his granddaughter's classroom at Dry Hollow Elementary and said everyone at that school is working hard.
"The district has a bad brand that I think is undeserved," he said.
McAllister said he knows that part of his job on the school board will be to approve budget cuts. When asked what programs he would be more inclined to protect or cut he said right now he doesn't have all the answers. He would want to look at things on a case by case basis and listen to staff recommendations.
He said he likes the graphs produced by the new achievement compacts, which show student progress (or lack of progress) on a variety of points. He said the district needs to use the data it is now required to collect to know where to focus — for example, he believes the cutting of math teachers is to blame for students falling behind in math.
McAllister said since the district is "already kind of cut to the bone" it might need to look at selling property or infrastructure to make ends meet.
"The district is in a tough spot," he said.
One decision the district has made that McAllister is interested in is the K12.com online schooling program known as the Virtual Academy. He said he thinks that decision is a good one, because it gives home school parents a strong curriculum to work from, gives students another option and allows the district to get state funding for students that otherwise wouldn't be affiliated with the district.
He said bringing technology into education is important, because the increase in technology should keep up with developments in the real world.
"In the orchard I used to just go out and look at the ground to see if it needed water and now I have probes and can look at all sorts of information on the computer," he said.
McAllister also said that he is interested in seeing the district expand its efforts into public-private partnerships and has also been excited to see the district working more often with Columbia Gorge Community College. He said job shadows, mentorships and other hands-on experiences are important to students' learning.
McAllister said if he becomes a school board member he will continue his efforts to talk with constituents and try to address their concerns, like finding out why the district is using its infrastructure the way it is.
"People have asked me stuff and I've gotten answers and some of it makes sense and some of it doesn't and some you can't do anything about," he said.
McAllister said friends and associates asked him to run for the school board because as an orchardist he is representative of the makeup of most of Zone 2. When former board member Clay Smith resigned McAllister applied for the position but narrowly lost out. He decided to try again and now that incumbent John Fredrick has dropped out of the race his chances of success are good.