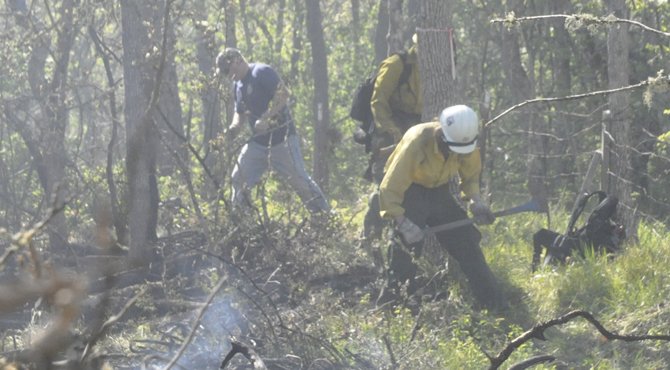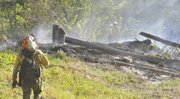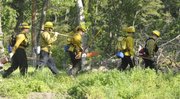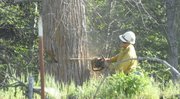 Just as Oregon's Wildfire Awareness week gets under way, firefighters are hoping two simultaneous fires Friday, May 3 — one on Sevenmile Hill and another on Mill Creek — are not a glimpse of worse to come.
Temperatures were in the mid-80s at around 2:30 p.m. when the first fire was reported near the home at 2017 Mountain View Drive on Sevenmile Hill. The fire burned about four-tenths of an acre in oak woodland, largely burning grass and leaf litter, said Kiel Nairns of the US Forest Service National Scenic Area District.
Mid-Columbia Fire & Rescue responded, as did Mosier Fire Department and the Oregon Department of Forestry. Flames were quickly extinguished and by 4 p.m. firefighters were lining the fire and mopping up.
Meanwhile, at 3:10 p.m., the report came of the second fire on the Phil Hoffman property in the 6000 block of Mill Creek Road. The fire started when a burn pile got out of control, spread laterally along the creek edge, then got hot enough to spot across the creek and spread to the nearby hillside.
"It worked its way up the hill 100 or 150 feet," said Bob Palmer, fire chief for Mid-Columbia Fire and Rescue. The fire burned about one-eighth of an acre of heavy brush and scrub oak.
The fire also burned into five good-sized cottonwood trees that were hollow inside. The trees had to be cut down.
Palmer said fire danger is increasing, but he stopped short of declaring an early end to spring burning season.
"The fuels look green on top, but they're dry underneath," Palmer said. "If the [hot, dry] weather keeps up, we may consider an early burn ban."
About 20 firefighters from MCFR, Oregon Department of Forestry, the Forest Service, Dufur and Dallesport responded to the Mill Creek Fire, while Hood River manned the station.
"It's kind of odd that it would have required this many resources," Palmer said. "Typically, this time of year fires don't burn as aggressively." But the conditions, including the hollow trees and steep hillside meant added challenges, though firefighters were in the process of mopping up the Mill Creek fire by 5:30 p.m.
May 5 through May 11 is Oregon Wildfire Awareness week and those most at risk from wildfire are people who live in the wildland-urban interface, located near grasslands and stands of timber, according to Oregon State Forester Doug Decker.
"Fire was here first and will always be a part of Oregon's forested landscape," Decker said. "For property owners on the forest fringe, some planning ahead now — and a weekend of outdoor work this spring — can make a difference when we get to the heart of fire season and high fire danger this summer."
Landscaping can beautify a home and also reduce fire threat. Two key things to remember: spacing, and species. Planting trees and shrubs with enough distance between them can hinder a wildfire from burning through vegetation and reaching the home. Once planted, trees and shrubs must be maintained by periodic pruning. A well-watered lawn, mown short, also strengthens the barrier to fire.
Some shrubs also resist fire. Oregon State University Extension publishes "Fire-Resistant Plants for Home Landscapes" available free at: http://bit.ly/123fTGK. Fire-resistant plants are those that do not readily ignite from a flame or other ignition source. These plants can be damaged or even killed by fire. But their foliage and stems do not significantly contribute to the fuel and, therefore, the fire's intensity. Fire-resistant plant species must be watered and kept trimmed to maximize the buffer effect against a wildfire. Many have the advantage of requiring less care than common ornamentals.
In preparing for warm, dry weather, the most important thing is to get into the fire season mode. From late spring through early fall, Oregonians live in a wildfire environment. Whenever we work or play in the outdoors during this time, fire safety must be foremost in our minds.
For helpful tips on wildfire safety at home and in the forest, visit the Keep Oregon Green Association website, www.keeporegongreen.org/. Another resource is the Firewise Toolkit, www.firewise.org/
information/firewise-toolkit.aspx.