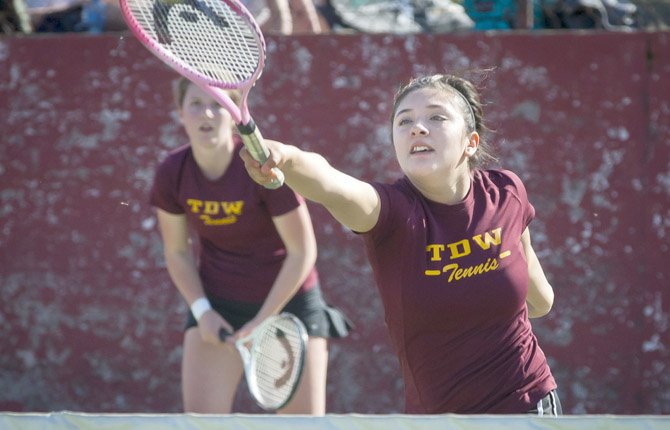 In looking for a silver lining, The Dalles Wahtonka girl's tennis coach Debby Jones saw her team nearly double its 22-game total from their last effort versus Pendleton up to 37 in an 8-0 loss Wednesday at Pendleton High School.
Along with those final match numbers, the No. 1 and No. 4 doubles teams nearly pulled off wins.
"This was our last regular season contest and we really wanted to test ourselves to see really where we were improvement wise as individual players and a team," Jones said.
At No. 1 doubles, senior Katie Mazeski and Johanna Wilson went to work against Pendleton's Bailey Bixler and Miranda Miller.
The Buckaroo tandem claimed the opener by a 6-4 margin, but then Mazeski and Wilson evened things up with a 6-3 outcome.
In the match breaker round, a new 10-point addition similar to the format played at the district tournament, Pendleton worked a 10-5 split to grab a win.
The Eagle Indian No. 4 duo of Emma Ell-Smith and Rebecca Kohltfarber had another close call for a major upset versus Alex Reyes and Heather James, but also fell in the match breaker frame.
TDW's tandem struck first blood with a 6-3 winner, but both Reyes and James battled back for a 6-2 finish to tie things up, before settling matters with a 10-4 decision.
Tribe senior Cinthia Vasquez and Abi Herriges had another building match, but lost a close tussle at 6-3 and 7-5 to Pendleton's Sam Bixler and Kadysha Reyes.
All of the other Pendleton wins were in straight sets and allowed more than three set points on two occasions.
Jones has the luxury of a deep roster of 27 players, but she has had a difficult time finding adequate teaching moments.
Even so, she has reasons for optimism.
"I can speak honestly that I feel that each young lady has improved and the results in the improvement in the increase in overall games won backs that up," the coach said.
The 5A district tournament starts at 8 a.m. on Friday and ends Saturday and Jones said the experience would be new for seven of the 12 girls.

It is definitely going to be a tough challenge.
"We are going into the tournament with realistic expectations, but also with our eyes wide open for the possibility of pulling off a surprise or two," Jones said. "We will have five days of solid practice with just the 12 girls so there will be a lot of last-minute focus on improving serves and overall consistency. You can count on one thing – we'll go down swinging."