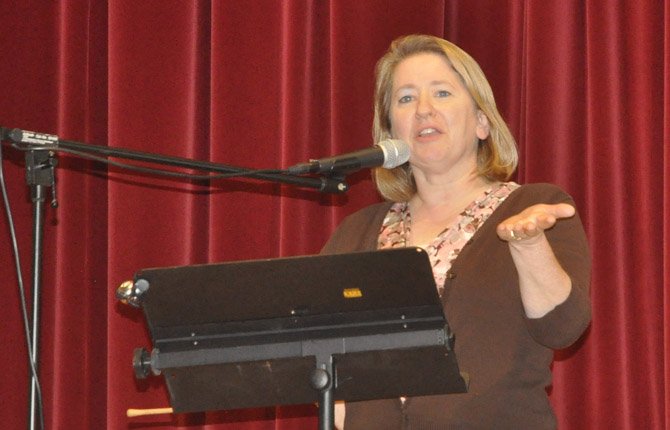 Like many authors, Rosanne Parry draws from her own life experiences for inspiration for her books.
Fortunately for her, she has plenty of interesting experiences to draw from — from living in Germany months after the Berlin Wall fell to teaching on the Quinault Indian Reservation on the Olympic Peninsula.
The author, who visited The Dalles recently, used her firsthand experience of a post-wall Berlin to inspire her book "Second Fiddle." The book follows three American teenagers living on a military base in Berlin in 1990. When they see a Soviet soldier beaten and thrown into a river by members of his own army they hatch a plan to help him escape to France.
"They realize no matter where they take him, they're going to be giving him back to the people who tried to kill him, whether it's to the hospital or the police, so they decide to pretend he's their music teacher," Parry said. "It's a really fun girls' road trip story."
Another story she has written is Heart of a Shepherd, a modern-day tale of a sixth-grade boy trying to step up as the "man of the house" and take care of the family ranch in Oregon after his father is deployed to Iraq.
Parry has several family members who are veterans, including her husband, who is a retired intelligence officer, so she often writes about children of military families.
She said she also enjoys writing boy characters that are about more than cheesy action and bodily function humor.

"It's pretty insulting what's popular for boys," she said.
Parry said she enjoys being part of Random House publishing because she is able to write books that she hopes will stick around for a long time, instead of being pushed into writing about whatever the latest trendy topic is.
She said although she enjoys reading science fiction and fantasy she has never felt the urge to write it. This summer she is teaching an online course called "Vampire-Free Fiction: Writing Real-World Novels for Young Readers."
So far her books have been targeted toward middle school-aged students, which is the age group she most often presents to when she visits schools. Parry also frequently does Skype chats with classes that are reading her books. She said video chatting is handy for saving on travel time and she also uses the technology to visit schools that are "too remote or too dangerous" to bring in a guest speaker.
"Also, I work in a tree house, and kids love seeing that," she said. "Sitting still is not my thing and I like to show that it doesn't have to be."
Parry said she also tells students that she always loved telling stories but she wasn't that into writing until she got older. When she started having children she decided to try to get one of her stories published and eventually succeeded.
"I love to teach, and I miss it, but I didn't want to teach full-time with little kids at home and then they didn't seem to need me any less as they got older," she said. So she stayed home and wrote.
Parry's latest project will come out in June 2013. The book, Written in Stone, is actually the first novel Parry ever wrote. Set in the 1920s, it is about a girl from the Native American tribes on the Olympic Peninsula that gave up whaling after commercial whalers began over-fishing the area.
"They voluntarily gave up the lifeblood of their community and family," Parry said. "How do you be who you are when the thing that defined you is gone?"
Parry spoke with students at North Wasco County School District 21 during her visit and also shared some of her poetry and skill with a violin before the district's annual poetry slam.

More information about Parry can be found at www.rosanneparry.com.