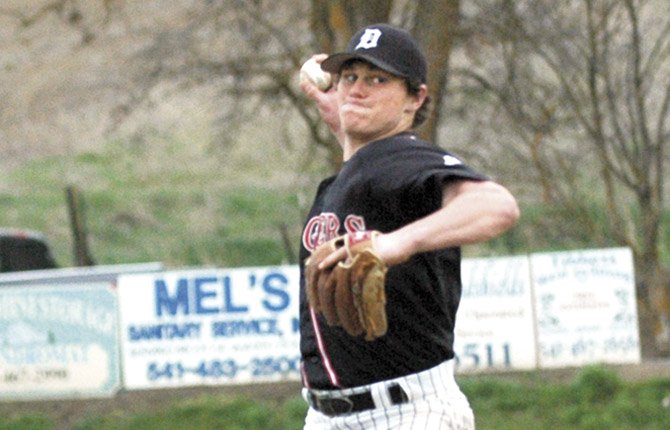 Saturday's Box
Game 1
Stanfield 13, Dufur 0
STAN 103 221 4 — 13 16 1
DUF 000 000 0 — 0 4 2
Bryce Linker, Mike Martinez (7) and Devin Sather. Trever Tibbets, Bryson Caldwell (6) and Jake Kortge. W: Linker. L: Tibbets. SO/BB: Linker 7/2; Martinez 0/0; Tibbets 6/0 (2 HBP); Caldwell 0/1.
---
OFFENSE: HR: Devin Haefer (S). 3B: Haefer (S), Sather (S); Nick Little (D). 2B: Martinez (S), Ross Mendiola (S); Kortge (D).
STANFIELD: Haefer 3-5 3 runs, 3 RBIs; Linker 2-5 4 runs, SB; Mendiola 3-3 2 sac flies, 2 runs, 2 RBIs; Martinez 4-5 run, 4 RBIs; Sather 3-4 sac fly, 2 RBIs; Ty Renner 0-4; Jake Murstig 1-2 2 HBP, 2 runs; Dylan Ostrom 0-2 sacrifice bunt, run, RBI; Connor Bettencourt 0-4.
DUFUR: Cole Parke 1-3; Caldwell 0-2 walk; Josh Keyser 0-3; Tibbets 1-3; Nathan Duling 0-2 walk; Kortge 1-3; Little 1-3; Jon Keyser 0-3; Brad Newman 0-3.
---
Dufur 4, Stanfield 3
DUF 011 200 0 — 4 12 1
STAN 102 000 0 — 3 10 3
Cole Parke and Jake Kortge. William Abney, Mike Martinez (5) and Devin Sather. W: Parke. L: Abney. SO/BB: Parke 8/3 (HBP); Abney 4/1; Martinez 1/0 (HBP).
---
OFFENSE: 3B: Bryce Linker (S). 2B: Bryson Caldwell (D), Nick Little (D).
DUFUR: Parke 0-4; Caldwell 1-4 run; Josh Keyser 3-3 HBP, 2 runs, RBI; Trever Tibbets 2-3 walk; Nathan Duling 1-4 RBI; Kortge 0-4; Little 2-4 run; Brent Sumner 2-3 HBP; Brad Newman 1-4 RBI.
STANFIELD: Devin Haefer 1-3 run, walk; Linker 2-4; Ross Mendiola 2-3 HBP, RBI; Mike Martinez 1-3 run, walk; Sather 1-3 HBP, run; Ty Renner 0-2 sac bunt, walk; Jacob Murstig 2-4 2 RBIs, SB; Will Abney 0-2; Connor Bettencourt 1-3.
Dufur pitcher Cole Parke pulled off the Houdini act of all Houdini acts Saturday against No. 7 Stanfield.
The junior right-hander struck out the side and escaped a one-out, bases-loaded jam in the bottom of the seventh inning to preserve a 4-3 nightcap victory over the first-place Tigers during Blue Mountain Conference baseball action at Dufur City Park.
With a sense of relief after posting the final out, Parke discussed the tightrope act – he enjoys pitching under duress.
"I was little nervous and scared to have the bases loaded several times there in the last few innings," he said. "We just called the right pitches and struck them out. It was definitely a fun moment to playing in close games like that and pulling out the victory."
Stanfield immediately got things cooking in the bottom of the seventh inning on a triple by Bryce Linker and a hit batter by Ross Mendiola to put runners on first and second base.
With all-league slugger Michael Martinez at the plate, both runners advanced on a passed ball.
The Tiger senior worked a full count, but on the payoff pitch, Parke fired a fastball right by him for a swinging strike and the first out.
Devin Sather then engaged in an eight-pitch battle with Parke, fouling off a pair of two-strike pitches.
On the 3-2 pitch, Parke pulled the string on a curveball and Sather swung over the pitch for the strikeout.
Stanfield had one chance remaining, in Tyler Renner, and the outfielder faced another full count.
On the 3-2 pitch, the ball sailed wide for a walk to load the bases for the Jacob Murstig (2 for 4, 2 RBI).
Murstig jumped ahead 1-0, 2-0 and 3-1, before Parke got a called strike to make it a 3-2 count.
Parke wiped his brow, peered in to catcher Jake Kortge's sign – fastball.
The Ranger hurler reached back and fired home a pitch that was waved at missed for the strikeout to end the threat.
In his first full season as catcher, Kortge is happy to have Parke throwing him pitches in pressure moments – it all comes down to execution.
"You got play it like it is any other situation," Kortge said. "If you get worried about it and you get nervous, that is when mistakes happen. Mistakes are cut down when you are just playing the game as if there is nobody on and there are two outs. If you treat everything the same, it will all work out. Today, it happened for us."
Parke struck out eight, walked three and hit two batters in his complete-game performance.
Overall, Stanfield had 10 hits and received three walks. Two other runners reached on hit by pitches.
However, they went 3 for 14 with runners in scoring position, stranded nine base runners and hit into two double plays. Kortge also threw out a runner trying to steal for the final out of the fourth inning.
Stanfield got the early lead in the bottom of the first inning on three consecutive singles, the final hit coming off the bat of Mendiola for an RBI single to bring in Devin Haefer.
Dufur tied things up in the second frame on a double by Nick Little, a single by Brent Sumner and an RBI single to left by Bradley Newman.
Josh Keyser scored a run in the third inning on an error to move the Rangers head 2-1, and then Stanfield's Murstig drove in a pair on a two-out RBI single to run the count up to 3-2.
Dufur took the lead for good in the fourth inning, as Bryson Caldwell hit a two-out double to left and Keyser drove him in with an RBI single to left field.
Trever Tibbets added another single and Nathan Duling drove in the eventual game-winning run with an RBI single to left field to make it, 4-3.
The Rangers had a chance to swell their lead in the fifth, by loading the bases with one down, but a fly out and double play ended the threat.
Keyser went 3 for 3 with an RBI and two runs to pace Dufur's 12-hit attack.
Tibbets and Little added two hits apiece, and Sumner went 2 for 3 and a pitch hit him.
Dufur went 5 for 16 with runners in scoring position and stranded 10 runners.
The biggest learning lesson Kortge takes from Saturday's nightcap was his team's ability to shrug off a 13-0 opening-game loss to come back even stronger.
"Us having a positive attitude is the biggest thing," Kortge said. "When something needs to be done, you go out and get it down. There are no if ands or butts about it – you just do what you have to do to help the team. Sometimes, it doesn't always work out, but you have to try your best and keep that positive mentality up."
A lot was gained by Dufur in this 14-inning stretch Saturday.
Head coach C.S. Little is now focused on the final two regular-season games and the upcoming district tournament in The Dalles.
"There was little bit of pressure today because it was for first place, but there is no pressure now. We control our destiny from here on out," the Ranger coach said. "I am always happy at the end of the day. It is just from Point A to Point B, you go through a wide range of emotions, good and bad, but it ended up pretty good today."
Dufur (13-8 overall, 9-3 league) hosts third-place Weston-McEwen (14-9, 8-4) with action starting at 11 a.m. Saturday.