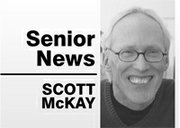 How do you travel to the store, your church or to visit friends? Do you ride a bike or a four wheel electric scooter? Or do you careen around town on a Vespa like Gregory Peck and Audrey Hepburn in the movie "Roman Holiday?"
According to a national study, those of us over age 65 make roughly 90 percent of our trips by car —demonstrating how dependent we are on the automobile for our transportation needs. But for an increasing number of older folks, driving is no longer a possibility. Fortunately, there are several public transportation alternatives.

In Wasco County, the Mid-Columbia Council of Government's Transportation Network — The LINK — provides both dial-a-ride services throughout Wasco County and fixed route services within the City of The Dalles and even to Hood River and Portland.
The dial-a-ride services are available Monday through Friday from 8 a.m. to 5 p.m. but you need to call in advance to schedule them. The buses are lift-equipped to assist riders who require the use of a wheelchair. The fare is $1.50 one way.
The Transportation Network also offers in The Dalles a "Shop Till You Drop" fixed route loop every Monday and Wednesday from 10 a.m. until 2 p.m. that goes between Bi-Mart and downtown — and hitting the major shopping areas in between. Fare is $3 for unlimited stops.
There is also a fixed route between Hood River and The Dalles that operates three times every weekday with stops at Wal-Mart, Providence Memorial Hospital and the Hood River campus of Columbia Gorge Community College. Fare is $3 one way.
And if you want to explore Portland, the Transportation Network offers bus service to the metro area that leaves The Dalles every Thursday at 7:30 a.m. and returns by 5:10 p.m., with stops at the Gateway Max Station, Art Museum, Oregon Health and Sciences University and the Clackamas Town Center. Fare is $8 each way.
For more information, call the Transportation Network at 541-296-7595, 1-877-875-4657 or go online at www.gorgetranslink.com. Or you can attend the next Passport to Happiness event at the Mid-Columbia Senior Center on Wednesday May 15 from 3-4:30 p.m. where speakers from the Transportation Network will discuss public transportation options in the region.
May is Older Americans Month— but more about that next week, because May is also Community Action Month. To celebrate, the Community Action Program (CAP) is hosting their annual Open House at 312 E 4th Street from 11:30 a.m. till whenever the hotdogs and hamburgers run out.
Besides providing low income energy assistance for seniors and administering the AARP Tax Aide Program, CAP also operates the Community Food Facility that provides food to many local food agencies. And to help stock the local food banks, this coming Saturday is the Letter Carrier's Food Drive. So don't forget to leave a bag of canned food next to your mailbox.
The Mid-Columbia Housing Resource Center is now taking a limited number of pre-applications for a potential Regional Home Repair Program for residents of Wasco and Hood River Counties. This program will provide grants up to $15,000 for low to moderate income homeowners to make needed health and safety repairs to their homes. Call David Peters 541-296-3397, ext 18, for more info or go online at www.midcolumbiahousingcenter.org.
Unfortunately, I have to reschedule Valerie Kendrick's May 14 presentation on how to better understand your grandchildren to June 4. Instead, the next 11 a.m. Tuesday Lecture will continue the discussion about how to fund the growing need for long-term care.
And before the water boils and the teapot whistles, playing tonight at the center is "The Strawberry Mountain Band. Martin and Friends will be back strumming for your dancing and listening enjoyment. on May 14. Music starts at 7:00, everyone is welcome and donations are appreciated.
The name of the talking mule in the 1950's movie series was Francis. (And this week's winner is Alex Currie.) Following the same theme, this week's "Remember When" question is about a television series that began in 1961 on CBS starring a talking horse named Mr. Ed. But he would only talk to his eccentric and klutzy owner played by Alan Young. What was the owner's first name? E-mail your answer to mcseniorcenter@gmail.com, call 541-296-4788 or send it with a picture of Bamboo Harvester - the horse that portrayed Mr. Ed from 1961-1966.

Well, it has been another week looking life in the eye and trying not to blink. Until we meet again, most things are never as easy as you first thought, nor as hard as you now believe.
Menu
Wednesday (8) Chicken Pot Pie
Thursday (9) Chili Burgers with Tater Tots
Friday (10) Open faced Roast Beef Sandwich
Monday (13) Beef Stroganoff over Noodles
Tuesday (14) ham with Sweet Potatoes