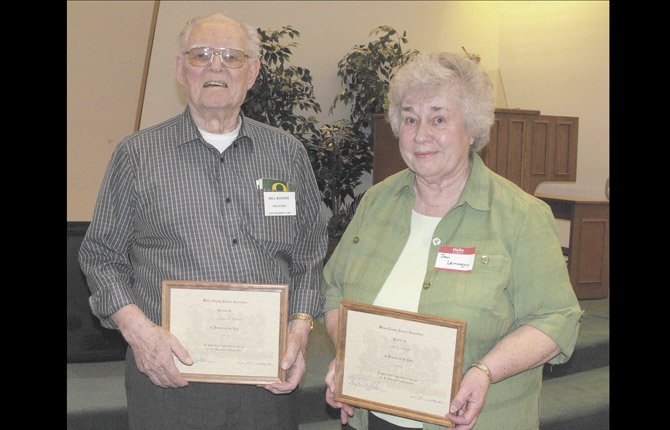 The Dalles — The Wasco County Pioneer Association chose William Rooper and Jan Leininger as the Pioneer Man and Woman of the Year for 2013 at Saturday's annual meeting.
Leininger, a descendent of four pioneer families, grew up in Wasco County and graduated from Mosier High School, became a teacher and is an avid community volunteer with a passion for preserving local history. She is a descendent of the Proctor, Leininger, Locke and Duvall families, all early Wasco County settlers. She graduated from the Oregon College of Education, now Western Oregon University, in education as a teacher and counselor. She taught in Tigard and Hawaii before returning to Mosier to work in Mosier and Chenowith elementary schools.
She is a long time member of the Wasco County Pioneers often in charge of the sale of locally authored history books at the annual reunions.
Leininger arranges the local history tours for the Wasco County Historical Society and is its past president.
William Rooper of The Dalles is a descendent of an English grandfather who came to Antelope in 1872 to raise sheep. His father was one of 10 children and as each child came of age he or she picked out a homestead, thus expanding the main ranch to cover 14,000 acres of near worthless land due to overgrazing practices of those days.


By the time he finished high school most of those families had moved to the Willamette Valley or The Dalles where work was available. He finished high school in Prineville in 1941 and served in the Navy during World War II before attending the University of Oregon. In 1949 he moved to The Dalles to work for John Stark and retired in 1989 after working 39 years as a certified public accountant.