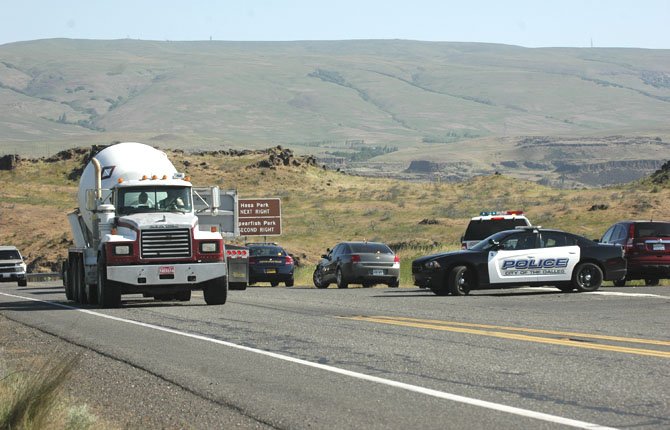 An approximately half-hour foot chase through Columbia Gorge Regional Airport grasslands took less time than it might have had not an Oregon State Police airplane been approaching the airport at the time the suspect fled.
The pilot aided in tracking the reported fugitive as he fled through the grasslands east toward the airport base.
"He was five minutes out," said Trooper Thad Routson of The Dalles state police office, "and was able to locate the subject. Without the pilot's help, it would have taken a lot longer to find the guy."
The incident started around 9 a.m. when Routson tried to pull over a light blue 1984 Nissan pickup he said was still driving on studded tires.
"The driver of the vehicle started to pull over before the bridge, then kept going," Routson said. "On the bridge, he sped up to about 55 miles per hour, then started slowing and took his seatbelt off while he was still moving."
The driver passed two wide turn-out areas just past the bridge on the Washington side, then stopped at a narrow section of the northbound shoulder, just past the entrance to The Dalles Dam Locks lookout point.
"As soon he stopped, the door flew open and we were off to the races," Routson said.
Routson reported to dispatch that the man had either a gun or a knife. It turned out to be a large hunting knife in a sheath on his side, Routson said.
Routson stayed with the vehicle's passenger, who was not charged. Meanwhile, law enforcement officers from six jurisdictions responded to the scene, including Wasco County, The Dalles City, Klickitat County, Washington State Police and the Goldendale Police Department K-9 unit.
"The dog followed the tracks to where the guy had dropped his jacket," Routson said.
Andrew Kahclamat, about 25 years of age, from Klickitat, was arrested on charges of attempting to elude, driving without a license, no insurance and possible driving under the influence of intoxicants.
"We won't know until Washington completes its report," Routson said.
Once the alleged fugitive had crossed the river, Oregon officers were unable to legally take him back across the river, Routson said, so Washington law officers took custody of Kahclamat and transported him to the jail in Goldendale.
"We got a phone call from one of our co-workers who's a volunteer firefighter who got the call that there was an armed fugitive on the airport property," said Sarah Anthony at the airport. "We just locked the doors and went upstairs to the roof."
While the airplane assisted with keeping the fugitive in sight, Anthony said, airport personnel watched the scene unfold to the east of them.
"We could actually see the guy running on the far east side of the airport," she said. "About five minutes later a bunch of police showed up."
Kahclamet was apprehended near some airport outbuildings on the east side the airport property.
"He was probably a half-mile away from the actual FBO (Fixed Base Operator building)," Anthony said. "We weren't in any immediate danger."