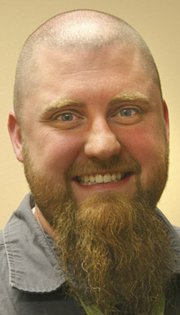 The Dalles — The story of Aaron Bowman's decision to run for the North Wasco County School Board 21 seat being vacated by Brian Stahl stretches back to the birth of his son, who was born with multiple physical special needs.
There began a long process where he and his wife, Katy, educated themselves on how to help their son realize his best outcome. His son attended the Early Intervention program as a preschooler with positive results.
"There was no way I could not give back," Bowman said.
Bowman, who was born and raised in The Dalles and decided that was where he wanted to raise his children, substituted for Early Intervention for two years until his son graduated, then started teaching 3 to 5-year-olds there.
"I get 'Dad' more often than I get 'teacher,'" he said.
The program shares space with the Head Start program at its West 10th Street building, and students from both programs also have opportunities to share classrooms from time to time.
"When the Oregon Early Childhood Council came here, this was one of the places they toured," Bowman said. "They saw a collaboration that really benefits kids."
Three years ago, Bowman and his wife started the REACH nonprofit organization in The Dalles. REACH stands for Realizing Educational Achievement in Children.
"It's for children with special needs and their parents, to train parents to work with school districts on getting maximum results for their children in the school system," Bowman said.
District 21 Superintendent Candy Armstrong spoke at one of the REACH meetings.
"She was looking to forge a partnership in the community where one hadn't been before," Bowman said.
Her visit encouraged Bowman to start attending the school board meetings.
"Now I really haven't missed one in two years," he said.
He has also been attending the Lighthouse training meetings that the board members have been attending.
Bowman would like to see more community partnerships help the district's budget woes.
He points to Project Endeavor, a multidisciplinary training program at The Dalles Wahtonka High School, as an example of such a partnership.
Bowman also says the rifts between the past school districts need to be left in the past for the benefit of the students.
"Only the kids suffer when we hang on to past rifts," he said.
Class size is a big issue for Bowman, who has talked to a number of teachers on the subject.
"It not only affects the students, it affects the teachers and how they can effectively deliver education," he said. "It also affects the overall scores. With oversized classrooms, kids are not getting the one-on-one time they need."
In addition to his job at Early Intervention, he also has two jobs with Oregon Health and Science University and the federal government as part of a multi-disciplinary team that meets to support individual children with special needs, to help them get the health, education and community support they need. He also works with OHSU's Family to Family health resource program, helping families of children with special needs in rural areas connect to resources.
Bowman is proud to point out that his own son has received the help he needed through the years to the point that now people would not distinguish him from the "regular" kids in his classroom.