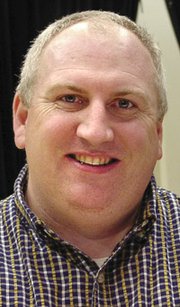 Eric Nerdin hopes to reclaim the North Wasco County School District seat he held for two years during the transitional time when The Dalles and Chenowith districts consolidated into North Wasco County School District 21.
He was appointed to that two-year term and will seek election this time on the May 21 special districts election.
"The first year we worked on delineating the new district so that when the merger did happen we could go forward smoothly," Nerdin explained. "The second year we combined the district's functions."
Nerdin didn't run again at the time because he took a job in Milton-Freewater, which was closer to family members. However, that job was of short duration and he was quickly back in The Dalles with his family. He is now a loan fund manager at Mid-Columbia Economic Development District. His background includes ownership of several small businesses in The Dalles, including Pat's Pancake House, Dairy Queen and Baron's Screen Printing.
If he is chosen over opponent Aaron Bowman, Nerdin will replace Brian Stahl, who is vacating the seat he has held almost since the beginning of the district.
Nerdin has additional experience with the district. He is a parent of two current and one future district student. He currently serves on The Dalles Wahtonka High School's site council and on the dual credit committee with The Dalles Wahtonka and Columbia Gorge Community College. He is also a current Education Foundation board member and treasurer of the Friends of TDW Football board.
"I mostly wanted there to be more representation of the board of parents with students attending the district," Nerdin said of his reasons for running.
He also cited a desire to help the economy.
"I see a strong and successful school system as a primary driver of the local economy," he said. "The quality of life here in The Dalles is great and attracts business. People want to locate here and if the schools are outstanding, it is much more likely that they will end up here."
Regarding school district issues, Nerdin said, "The biggest issue is to make sure all students are ready to take the next step."
He says he isn't just talking about students being prepared for college or other opportunities. He says that needs to be the important question throughout the district, from pre-kindergarten on up. The ultimate goal will be to graduate productive and contributing members of society.
"I think that needs to be a really strong goal of the schools," he said. "I don't think we can look at what we're doing in each school without that end goal in mind."
Regarding the budget, which he says has been a challenge since the passing of the Measure 5 tax limitation measure in 1990, he supports legislative changes to return more control of school funding to the local communities is important
Nerdin also talked about alternate methods of helping add to district funding, including grant writing and capital campaigns, such as the one Hermiston completed to build a new football stadium.
"There are things we can learn by going out to other schools that do things successfully, to see if there are ways we can replicate them in our area."
Nerdin also thinks it is important to develop more community pride in the schools.
"[If that happens] they will be more likely to vote for measures and enhance their school district contributions through volunteerism and personal money, such as estates and supporting programs."
Nerdin promises to be open-minded and collaborative, if elected to the school board.