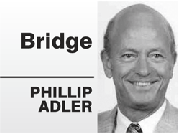 Robert Bresson, a French film director, said, "Cinema, radio, television, magazines are a school of inattention: People look without seeing, listen without hearing."
Some bridge players are guilty of listening without hearing — to the auction. Every bid and most passes supply some information for the attentive player.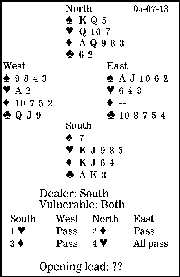 In today's deal, look at only the West hand and the auction. What would you lead against four hearts?
The auction followed a normal path. North's jump to four hearts showed game-going values with three-card heart support. South was close to a slam-try (imagine North's having ace-third of spades), but chose to pass.
If you use two-over-one game-forcing, North would rebid three hearts. Then the auction might continue four clubs — four diamonds (both control-bids) — four hearts - pass.
Yes, here five diamonds makes, but do not make a habit of playing in five of a minor when four of a major is a favorite to succeed. (A defender having ace-fourth of hearts and being able to give his partner a heart ruff in five diamonds is much more likely than a 4-0 diamond break and a defender gaining two diamond ruffs in four hearts.)
West should lead a diamond. Since diamonds have been bid and supported, it is highly likely that East is void of the suit. After East ruffs, he will probably shift to a club. South wins with his ace (West signaling with the queen to deny the king) and plays a trump, but West grabs the trick and gives his partner a second diamond ruff. Then East cashes the spade ace to defeat the contract.