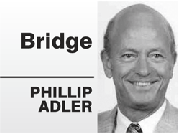 Bobby Moore, who was captain of the England soccer team that won the World Cup in 1966, said, "If you never concede a goal, you're going to win more games than you lose."
That is certainly true in soccer, but not in bridge. There is an old saying that runs along these lines: If you watch a beginner play in three no-trump, he wins the first eight tricks and loses the last five. In contrast, an expert loses the first four and wins the last nine.
Obviously, that is not exactly true, but it makes a valid point.
How is that a good hint to this three-no-trump contract after West leads the spade queen to dummy's singleton king?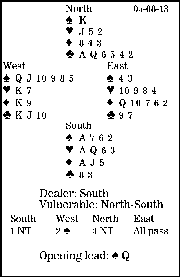 Note North's three-no-trump response. Without West's intervention, it would be automatic. It should be even after West's overcall. Even if West has spades headed by the A-Q-J-10, he is unlikely to lead the ace. And five clubs is a long way off.
South starts with five top tricks: two spades, one heart, one diamond and one club. He needs to make use of dummy's clubs. But declarer must lose at least one club trick whatever happens. And a good general rule in no-trump is that if you must lose a trick to establish a suit, lose it as quickly as possible, and the first round of the suit is rarely too soon.
Here, South should play a low club from the board at trick two. West wins and perseveres with spades, but declarer takes that trick, plays a club to dummy's queen, and has nine top tricks. Also, if he reads the end position correctly, he can catch West in an endplay for an overtrick.