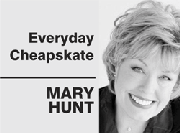 Many things that we buy are simply not negotiable. The salesperson at Macy's won't negotiate with you over the price of that newly arrived collection. The supermarket checker won't haggle with you over the price of eggs. But a ring at your local jeweler or produce at the farmer's market? Well, that's a different story. And once you read today's first great reader tip, you can add magazine renewals to the list.
KNOW YOUR PRICES. When I receive a magazine renewal offer in the mail, I first check the website for the current online subscription price. Then I call customer service and request the same price, which is always lower that the offer I got in the mail. I believe that's because customer service is eager to lower my subscription price to keep me as a customer. One magazine even went lower than the current online "sale" price! — Nancy, Texas
STOCKING UP SAVES. Stockpiling chicken when it's on sale is a great money-saver, but it's only the beginning. When whole chickens go on sale for $.59 to $.87 per pound, buy three. Once cut up, grill four breasts, four thighs and six drumsticks. Freeze what you don't immediately eat. Freeze (to cook later) six wings and two thighs. Also, debone and freeze two breasts. Finally, cook the giblets, tail, any fat, neck and bones in 3 1/2 quarts of water for 3 hours. Add poultry seasoning. Once cool, cut the meat off the bones and neck, and mince the meat. Freeze chopped giblets for later, and freeze the chicken broth.
All this will cost about $14. Once cut up and separated, you have chicken that would cost over $50. It really pays for itself. Plus, the broth alone would be at least $6. — Roy, California
PAINTING CLEANUP EASE. To make painting cleanup easier, line your roller pan with Glad Press 'n' Seal. When finished painting, remove the Press 'n' Seal, and toss. This works better than regular plastic wrap, since it really sticks to the pan and doesn't bunch up. — R.T., Minnesota
HEALTHY MOUTH SAVES MONEY. For years, I'd been lackadaisical about my dental hygiene. I would brush, floss and go to the dentist twice a year for cleanings. In the past 10 years, I've had multiple cavities, crowns and root canals. I've had more than $10,000 in dental work, much of which I paid for out of pocket.
I decided to get serious about cutting my dental costs. I talked to my dentist about a recommended daily regimen to prevent cavities. She told me to brush 2 minutes after every meal or sugary snack, floss every night, and use a mouthwash to kill germs.
I now spend maybe $12 a month and 10 minutes a day, and my oral health has never been better. My last bill from my dentist was a $100 instead of $1,000. — Bobbie, North Dakota
Would you like to send a tip to Mary? Email her at mary@every
daycheapskate.com, or write to Everyday Cheapskate, P.O. Box 2099, Cypress, CA 90630. Include your first and last name and state.
Mary Hunt isfounder of www.DebtProofLiving.com and author of 23 books, including her 2013 release "Cheaper, Better, Faster: Over 2,000 Tips and Tricks to Save You Time and Money Every Day."
To find out more about Mary and read her past columns, please visit the Creators webpage at www.
creators.com.