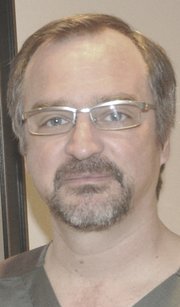 The Dalles — In his college days before medical school, Dr. John Willer was a volunteer emergency medical responder and firefighter in Ohio.
Now, the ophthalmologist is seeking a position on the Mid-Columbia Fire & Rescue board.
Ballots went out last week and the election is May 21. He is running against Carmen Gronquist for Pos. 2, which was vacated when incumbent Charles Rosebraugh opted not to run again.
Having lived in The Dalles for 12 years, Willer was considering ways to become more involved and give back to the community, when his longtime friend Jeff Martizia — a former drug representative who is now a firefighter at MCFR — asked him last fall to run for fire board.
"I kind of laughed," Willer said. He told Martizia his experience was that boards were "a bunch of yes men … who are usually only there to rubber stamp what the CEO says, and I'm not a rubber stamp kind of guy."
He said, "I don't go in with an agenda. I see it as I see it."
He said Martizia told him, "We don't want somebody that's in the bag for anybody," they just wanted someone who saw the issue from all sides.
After a fair amount of deliberation, Willer took him up on his offer, filing for office on the last day.
Though Willer is being backed by the firefighter's union, he said he is an independent thinker who comes to his own conclusions and won't be beholden to any particular agenda.
Willer started out in college in Ohio as a business major, and took an emergency medical technician course as a way to get out of the general biology requirement.
Ironically, he got bit by the medical bug, and ended up majoring in biology.
"I was a business major and I was in denial," he said. "I did the EMT thing and it kind of brought me out of the denial."
He got involved enough in the firefighting field in college that he served as chief of the emergency medical service for two years.
In medical school he thought he might like emergency medicine, given his background with the volunteer fire department. When he began his year of rotations — or working for a few months in various specialties — his experience in the ER left him flat.
"That was my first hospital rotation and I totally hated it. It was crushing."
Earlier, he'd done a non-credit rotation with an eye doctor in Florida, mostly because "It was an excuse to go to Florida."
But he realized that was what he wanted to do.
Willer is an owner in two businesses — the Cascade Eye Center and Columbia Gorge Surgery Center.
He said he will learn as he goes. He said he was taken to lunch by Mid-Columbia Fire & Rescue Chief Bob Palmer and Tom Ashmore, the president of the fire board. He had a good meeting with them, he said.
Willer said of his decision-making style, "I'm a pretty black and white person, but I don't need to know every single specific detail of something to make a decision."