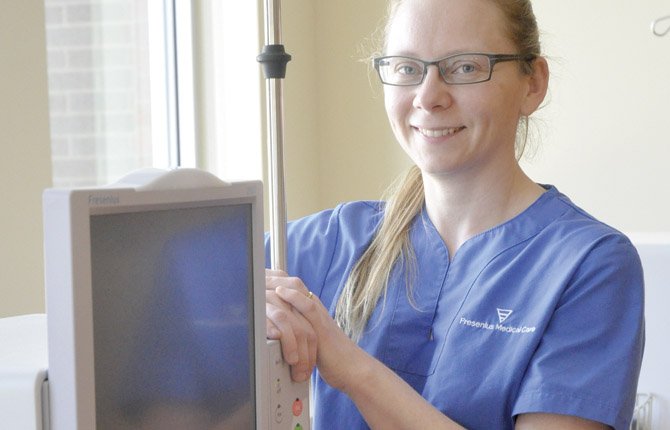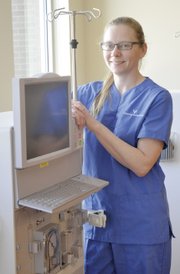 Fresenius Medical Care North America welcomes guests to its grand opening celebration this afternoon, from 3 to 6 p.m., which marks the first time a dialysis clinic has been based in The Dalles.
A ribbon-cutting ceremony is scheduled for 4 p.m. and will be presided over by Mayor Steve Lawrence. Tours of the clinic will also be offered.
"This area has been underserved for a long time," said Maja Olsson, clinic manager. "The patients who live in this area, up until this time, had to drive to Hood River for treatment — some from as far away as Goldendale."
The Dalles clinic is a partnership between Fresenius (pronounced Freh-SEN-ee-us) and Oregon Health and Science University (OHSU). In fact, physicians from OHSU had mentioned the lack of dialysis care to Fresenius officials and the patients' struggle with dialysis. The doctors who see patients at the local clinic are all credentialed nephrologists from OHSU.
Fresenius Medical Care North America is the largest dialysis provider in North America, with more than 2,100 dialysis facilities, vacular access centers, laboratories, pharmacies and affiliated hospitals and nephrology practices. The company provides renal services to hundreds of thousands of people in the United States, Mexico and Canada. They are also the continent's top producer of dialysis equipment and related products and pharmaceuticals.
They describe their UltraCare® process as a "unique approach to providing patient-centered care."
Olsson managed a dialysis clinic in Alaska for five years before moving here. Prior to that experience, she was a traveling nurse.
"At first I wanted to be closer to my family," Olsson said, explaining her reason for relocating. "Then, when I came down I was really charmed by the town. It has a very cozy feeling. Driving by on the highway doesn't really do it justice."
She said the people she has met since her arrival have been welcoming.
Past the reception area is the largest portion of the clinic, where hemodialysis stations line every wall.
"We also offer home dialysis, where we train patients to do dialysis to themselves at home," Olsson said. "We have a training room specifically for that."
Hemodialysis at a clinic is the more common of the two, Olsson said, but home dialysis is increasing in popularity. The most common home dialysis is peritoneal dialysis where the patient's own stomach membrane is used to filter the blood.
This form of dialysis is done every day, usually while the subject sleeps.
Training for this version of home dialysis takes about a week.
"After the training, they only come see us once a month," she said.
Home hemodialysis is a newer option.
Patients who will come for in-clinic hemodialysis will do so three times a week. The clinic has the capacity to serve two shifts of patients. Olsson expects to have about 20 to 25 patients when the clinic gets under way. In addition to dialysis, they will offer a variety of other renal service, including education about chronic kidney disease.
"With chronic kidney disease, there are five stages, from stage one, which is mild, to stage five, the end stage of renal disease, where dialysis or a transplant is needed to sustain life.
Many kidney disease patients have risk factors in common.
"The most common risk factors are diabetes or uncontrolled high blood pressure," Olsson said. Other causes include genetic conditions and medication side effects, but those are not common.
"In order to prevent kidney disease, follow your physician's directions when it comes to caring for diabetes and high blood pressure," she said.
In its early stages, chronic kidney disease may not have any obvious symptoms, but swelling of hands and feet, puffiness of eyes and face, anemia, muscle cramps, itchiness of the skin, frequent urination, and blood or protein in the urine.
"They say about 20 million patients have some form of chronic kidney disease currently and another 26 million have risk factors," Olsson said, adding that almost 400,000 patients in the U.S. are on some form of dialysis and about 80,000 are waiting for a kidney transplant.
Fresenius' The Dalles clinic currently have seven employees and will probably have a bit more once it opens in a few weeks. Workers provide a variety of functions including patient care, dietetics, social work and biomedical duties.
Tours this afternoon also include a look at the clinic's water treatment system which purifies water from the city water system even further, resulting in water that is "ultra-pure," Olsson said, and used in the treatment solution. The solution is mixed to the nephrologist's prescription and pure water is a requirement.
"It can't have any electrolytes at all," Olsson said.
Cleanliness of the hemodialysis machines is also critical. Blood lines are discarded after each patient and the inside of the machine is cleaned.
A lot of care is taken for the dialysis patient's comfort. All the dialysis chairs are heated massage chairs, and each faces a separate television with its own remote.
The staff is highly trained, she said. Staff members receive at least 10 weeks of paid training when they start. They want patients to feel comfortable and welcomed.
"To me, personally, our patient comes to dialysis and gives their life into our hands," Olsson said. "My goal is that life is good to whatever extent it can be. We have a pleasant, outgoing and positive team. I'm proud of my staff and would like [the public] to meet them."
Olsson added that her staff will be happy to provide free education about chronic kidney disease and treatment options.
Online:
www.ultracare-dialysis.com