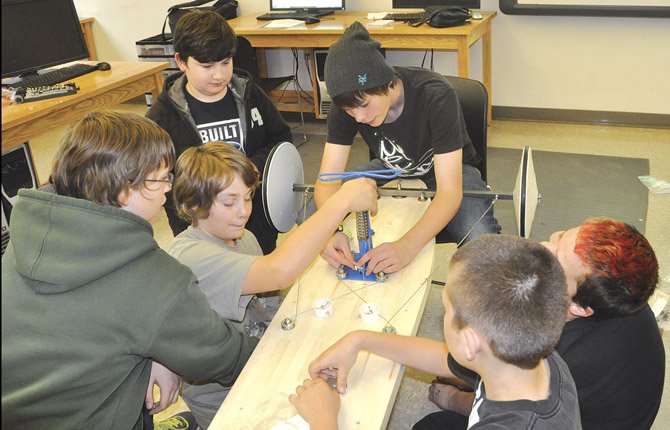 Parts of three city streets will be closed Saturday, May 11, to make room for a different kind of traffic: Soapbox derby cars built by students for the Gorge Gravity Games.
Nine teams of middle school and high school students will compete Saturday in the event, sponsored by Google and the Columbia Gorge Community College.
"We're thrilled to be doing this for the second year," said Google site manager Dave Karlson in a news release. "Along with the college, we are working to highlight math and science and make this day of soap box derby races and street fair festivities into hands-on fun for kids."
Racing will begin at 10 a.m. and the race will be kicked off by a few VIP guests — including Representative John Huffman, Mayor Steve Lawrence and County Commission Chair Rod Runyon — who will be racing each other in adult-sized "oil can cars."
The students themselves will be hurtling down Court Street in cars they made themselves, which are powered only by gravity. Law enforcement officers have volunteered to clock racers' speed by radar.
During a recent 4H technology meeting, Tim Willett, a seventh grader from The Dalles Middle School, said he finds building the cars "more entertaining than the competition."
"It's hard because there are so many pieces to it," he said.
Teammate Damon Spangle said his team came in first last year and he decided to participate in the Gorge Gravity Games again because it was a good experience last year.
"It's fun. You get to learn how to do teamwork and work skills," he said.
Zack Ziegenhagen, a fifth grade homeschool student on the Dufur team, said he also participated in the last event and learned a lot of tricks for putting the car together better. Last year he was the team's driver but went against the team from The Dalles in an early heat and lost. "The first time it was a little scary. I was like 'Am I going to lose control?'" he said.
Holly Morris, who runs the 4H after-school technology groups in Dufur and The Dalles, said she thinks the Gravity Games have been a great learning opportunity for the students involved.
"I think it's been a great experience for them," she said. "They're learning engineering. Even for me, I didn't know what an elevator bolt was until it broke and I had to find another one."
Saturday's race will take place downtown on Court Street between East Second and Seventh streets, which will be closed Saturday between 7 a.m. and 6 p.m. East Third and Fourth streets will be closed between Washington and Union streets. Westbound traffic can detour using Second or 10th streets, while eastbound traffic can use First or 10th streets to avoid the closure.
In addition to the race heats and an awards ceremony, there will also be a STEM (science, technology, engineering and math) fair at City Park featuring demonstrations in wind technology, robotics and more. A Spring Plant Sale will also be at the park that day and food from Montira's Thai Cuisine and Tacos Tia Rosa will be available.
For more information, visit www.gorgegravitygames.org.