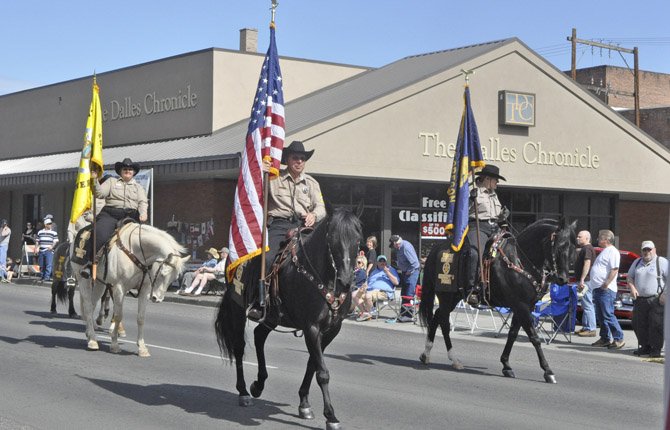 The Wasco County Sheriff 's Posse, shown above at the Northwest Cherry Festival in April, hosts an English and Western Trail Horse Challenge Saturday, June 8, at Fort Dalles Riders Club, 1023 Irvine Street in The Dalles. Competition starts at 9 a.m.
A trail horse challenge is a judged course that tests a horse's and rider's ability to work as a team and navigate obstacles they might experience on a trail. It encourages education, safety and fun. All breeds are welcome to participate.
The event will feature multiple age divisions in three classes: trail horse, obstacle course and cowboy timed trial. Ribbons will be given through sixth place and John Wilson's custom-made silver spurs will go to the show champion. Deadline for discounted entry fees is June 3. The fees increase between June 3 and challenge day.
The event benefits the Wasco County Sheriff 's Posse. For entry forms and information, call Barbara Harris at 541-965-0698.
Entry forms may be downloaded at www.fortdallesriders.com. Mail entry and check payable to Wasco County Sheriff's Posse to 2830 E. 10th St., The Dalles, OR 97058.