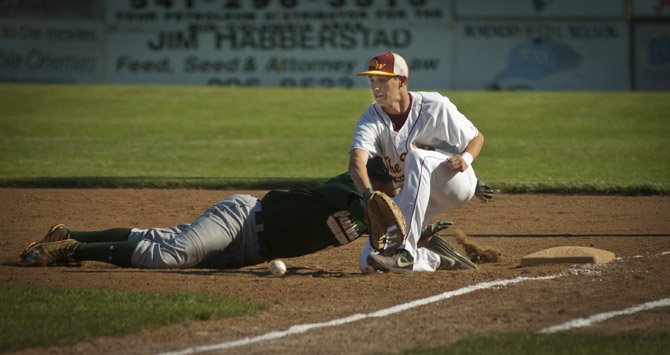 Tuesday's Box
TDW 9, Pendleton 3
PEND 000 300 0 — 3 7 0
TDW 102 141 x — 9 14 3
Chad McCoy, Grant Klopmeyer (5) and Alex O'Rourke. Dakota Walker, Connor Mathisen (4) and Clay Copper. W: Mathisen (5-1). L: Klopmeyer. SO/BB: McCoy 4/2; Klopmeyer 2/1; Walker 0/2; Mathisen 5/1.
---
OFFENSE: HR: Nolan McCall 2 (TD); 3B: Justin Sugg (TD); 2B: Sugg (TD), Kaci Kiser 2 (TD), Steven Bartells 2 (TD); Foreman (P).
PENDLETON: Connor Johnson 2-3 walk RBI; Quinton Queampts 1-3; Tan Rivera 0-4; Klopmeyer 0-4; Brian Branstetter 2-4 run; Taylor Hillmick 0-1 2 walks run; O'Rourke 1-3; Tyler Stewart 0-3 run; Foreman 1-2 RBI; McCoy 0-1; Matt Holmes 0-1. -- LOB: 8.
TDW: Sugg 3-4 3 runs, SB; McCall 4-4 2 runs, 6 RBIs; Kiser 2-4 run, RBI; Copper 3-4 run; Hunter Malcolm 0-3; Bartells 2-4 RBI; Mathisen 0-2 2 walks, run, RBI; Kevin Henderson 0-3; Austin Wilson 0-2 run, walk. -- LOB: 6.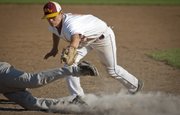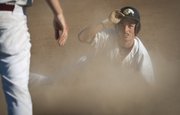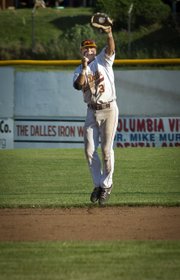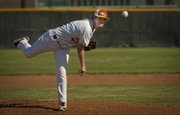 5A CRC Standings
Baseball
Team Overall Lg.
TDW 18-6 9-2
Hermiston 14-6 7-4
HRV 11-13 4-7
Pendleton 10-14 2-9
Tuesday, May 7 Results
TDW 9, Pendleton 3
Hermiston 11, Hood River 1
Friday, May 10 Results
TDW at Hood River, 4:30 p.m.
Hermiston at Pendleton, 4:30 p.m.
---
The Dalles — There was so much riding on the line for No. 3 The Dalles Wahtonka on senior night – a four-game sweep of perennial powerhouse Pendleton and a first league championship since Wahtonka and The Dalles high schools merged in the 2004-2005 season.
From the opening pitch until the final out, they took a business approach to the game, fighting to accomplish just one of a long list of preseason goals.
Nolan McCall hammered his seventh and eighth home runs. He drove in a career-high six runs as part of the Tribe's 14-hit effort in pulling out a 9-3 victory over the Buckaroos, for a Columbia River Conference title Tuesday night at Quinton Street Ballpark in The Dalles.
"It feels really good to be able to get this done at home," said McCall. "I am so proud of my team. We wanted this so bad, I can't even tell you. We did not want to leave this field today with the league title. We worked too hard to let that happen."
With his team up 1-0 in the bottom of the third inning, McCall went yard for the first time, rifling a 2-2 pitch from Pendleton pitcher Chad McCoy over the fence to make it 3-0.
After the Bucks evened the score at 3-apiece in the top of the fourth, Kaci Kiser hit an RBI single to give TDW a 4-3 cushion, until the fifth frame when McCall went berserk again.
Justin Sugg started the fifth with a double, and then Connor Mathisen walked to put runners on first and second with no outs.
Down 0-2 in the count against Pendleton's Grant Klopmeyer, the Tribe's all-state infielder smashed the next pitch well over the wall in left field to pad the Eagle Indian lead to 8-3.
Clay Copper followed up those fireworks with a single, Steven Bartells then roped an RBI double to cap the scoring.
Blessed with a 9-3 lead, Mathisen retired the final six Pendleton batters in order, with three of them being strikeouts.
He got the final out on a three-pitch strikeout of Brian Branstetter.
"We came out focused," Mathisen said. "After we lost our last game against Hermiston (6-1 on May 3), we knew we wanted to come out hard for this game. I know we did not want to let that happen again. That wasn't us. We wanted to show something today."
Mathisen, who came on in relief in the fourth inning for starter Dakota Walker, tossed 3 2/3 innings of one-hit ball with five strikeouts and a walk for his fifth victory.
Offensively, McCall was not the only standout with his 4 for 4 effort, but five players had multiple hits and six scored runs.
Copper went 3 for 4, Bartells added two doubles and an RBI, Kiser had two doubles, a run and an RBI and Sugg went 3 for 4 with a single, a triple, a double and three runs scored.
"This is an unbelievable feeling to be honest," Sugg said of winning a league title in his final high school season. "I can't tell you what this means. We knew from Day 1 what we could accomplish if we stuck together and played as a team. We have the belief now that we can go as far as we want. This is just the first step. I know we want more."
There has been a progression for TDW in the past few years.
With two games left in the regular season, the Eagle Indians have matched their win total from 2011 and 2012 combined (18) and they have recorded two more league wins in that same span.
"I cannot tell you how proud I am of this group of guys," said TDW coach J.R. Runyon. "They are baseball players. They give everything they have every time they step on the field. To see them accomplish this is special. They deserve this."

TDW heads to Hood River at 4:30 p.m. Friday.