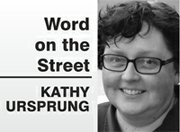 Discipline is the bridge between goals and accomplishment. — Jim Rohn
Tip of the hat to Catherine Ruggles, a physical therapist with Visiting Health Services in The Dalles for being named the therapist of the year by the Oregon Association for Home Care. Ruggles provides therapy in both Sherman County and the south end of Wasco County. Some of her patients report feeling much more hopeful after physical therapy intervention.
Her colleagues report, "Cathy has earned the reputation in these rural counties that many people know her and the help she has given others. She has been the strong advocate for the Wamic community's new gym, which is now available to her clinics when they are no longer home-bound."
Six years and counting: Cascade Acupuncture Center celebrates the sixth anniversary of its The Dalles clinic, and its second year at the 1712 E. 12th St. location.
An open house is planned Monday, May 13, from 5 to 7 p.m., with refreshments served by ANZAC Tea Parlour.
Guests are invited to check out the center's community garden.
Flowers for mom: Mother's Day is coming up this Sunday, May 11, and children are invited to choose a flower and plant it in a pot free for Mom on Saturday, May 11, from 10 a.m. to 3 p.m. at Sawyer's True Value.
"Everybody is always searching for the perfect Mother's Day gift," said Jared Sawyer. "And what could be more thoughtful than a live plant chosen by a child?"
Under new ownership: Lost Lake Resort and Campground, a perennial family favorite, has opened for its first full season under new ownership and management.
During the fall and early spring, Jason Taylor and Derek DeBorde have focused on making renovations to the resort to improve the guest experience. The owners have roots in the area and grew up camping with their families at Lost Lake.
Working with the U.S. Forest Service, four of the original seven 1940s-era cabins have been significantly restored, as have 20 of the original rowboats. The boats have been stripped, re-clad and freshly painted in the original red-and-white colors.
The resort now includes eight cabins, a lodge with six furnished apartments, 134 campsites, 37 spaces for recreational vehicles, boats and a general store.
Details and reservations: 541-386-6366.