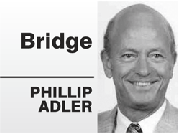 Ralph Marston, who played one season in the National Football League with the Boston Bulldogs in 1929, said, "You've done it before and you can do it now. See the positive possibilities."
This deal has a few possibilities, which you have probably seen before, but one of them still evades most players.
South is in three no-trump, and West leads the spade queen. What happens if South ducks the first trick and West continues spades at trick two? What is West's best defense if South ducks the first trick? What happens if South wins the first trick?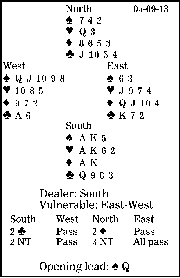 South has seven top tricks: two spades, three hearts and two diamonds. He must obtain two more winners from clubs. But since he will lose the lead twice, the defenders might establish and run their spade suit first.
If declarer ducks trick one and West continues spades, South plays on clubs and makes his contract. When East gets in with the club king, he does not have another spade to lead.
If South does not win the first trick, West must shift to a diamond to defeat the contract — a play that would be very tough to find.
If South wins the first trick, he does best to play a heart to the queen and start clubs from the board. To beat the contract, East must put up his king and return his remaining spade.
When partner's suit is one lead from being established, especially if you have only one card left in that suit, do your utmost to win the next defensive trick.