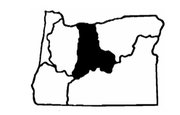 CENTRAL ZONE VIEWING
Crook County
The Prineville Reservoir Wildlife Management Area (WMA) North shore road is now open to motorized traffic. The WMA offers camping, shoreline angling and opportunities to see a wide variety of wildlife, including deer, coyotes, otter, beaver, raptors, shorebirds and waterfowl. Maps of the wildlife area are available at the Prineville ODFW office and at Prineville Reservoir State Park office.
Waterfowl can be found in decent numbers throughout Crook County, but especially along the Crooked River and Prineville Reservoir. Species that can be seen include mallard, pintail, gadwall, American wigeon, shoveler, green-winged teal, cinnamon teal, bufflehead, ring-necked duck, lesser scaup, wood duck and Canada geese. Canada Goose broods have been seen and can be found throughout Crook County.
Shorebird migration has just started and a few that have been seen include American avocets, black-necked stilts and killdeer. Common loons, grebes and a variety of gull species can also be seen around Prineville reservoir.
Spring passerine migrants should be increasing in diversity and number as the season progresses. Red-winged and brewers blackbirds, white-crowned sparrows, American and lesser goldfinches, mountain bluebirds and tree, cliff and rough-winged swallows are a few that can be seen.
Raptors can be found throughout the area. Red-tailed, rough-legged and ferruginous hawks, northern harriers, kestrels, prairie falcons and golden eagles can be found throughout Crook county and are usually associated more closely with open/agricultural areas. Bald eagles and osprey can be found associated with water bodies.
The recent warming trend and increased daylight hours has promoted some significant green up on winter ranges. Mule deer can be found in lower elevations around the county. 4/29/13.
Deschutes County
Weather conditions in the high desert are unpredictable at this time of year. Nighttime temperatures can dip below freezing and it's not unusual to experience the occasional snow squall during the day. However, nice days and warmer conditions are also on the menu, and that encourages reptiles to venture out from their rocky winter residence. A good way to tell if it's warm enough for reptile activity is to touch the rocks. If they feel warm, you can expect to see lizards around rock piles and snakes around ponds and wetlands, where you are also likely to see small packets of Pacific tree frog eggs deposited in the shallow vegetated areas. Wickiup Reservoir is a good place to see bald eagles, common loon, horned grebe, and tree swallows. Both bald and golden eagles can be seen at Smith Rock State Park in north east Deschutes County, and one of their potential food sources, yellow-bellied marmots, can also be seen on warm sunny days. Bird watching is not just limited to wild places, as residents and visitors to Bend can watch an osprey pair nesting adjacent to the Parkway that runs through Bend. Sandhill cranes have been spotted in a meadow near Sisters and at the Ryan Ranch area along the Deschutes River; above Dillon Falls. And Vaux's swifts can be seen flying over the former Bend library at 507 NW Wall St., and disappearing into the chimney at dusk.
Scan the skies for a glimpse of large birds with a "V" shaped wing pattern and you are likely to be looking at turkey vultures. Northern pintails, mallards, common mergansers, great blue herons and many other wetland bird species can be found throughout the county, and Steller's jays, white-headed woodpeckers, junco's, several sparrow species, ravens, spotted towhees, hairy woodpeckers, cedar waxwings and red-cross bills are just a few of the species that can be found in the Deschutes National Forest and BLM-managed lands.
Good sites to look for birds include forest edges surrounding meadows and wetland areas. Those with patience and stealth may be rewarded by the call and possible sighting of a Virginia rail moving through thickets of cattails. 5/06/13.
Wasco and Sherman counties
The Lower Deschutes River provides ample wildlife viewing opportunities. California Bighorn Sheep are frequently observed in the canyon and can provide fantastic viewing this time of year. The best spot to view sheep is from the BLM access road just downstream and across the river from Sherar's Falls (along Hwy 216).
Other wildlife that may be seen along the river include black-taildeer, red-tailed hawks, American kestrels, Osprey, and Golden and Bald eagles. Waterfowl are commonly observed on the river, and visitors can usually see many different songbirds and upland game birds that also call the canyon home. 3/19/13.