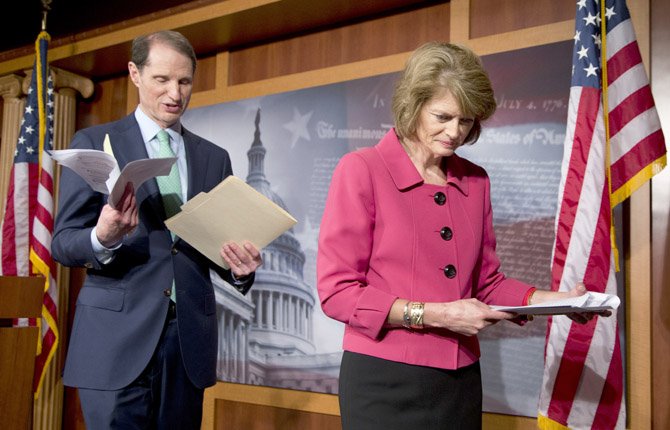 The Register-Guard, May 7, on Sen. Wyden's donor disclosure bill:
Sens. Ron Wyden, D-Ore., and Lisa Murkowski, R-Alaska, have delivered on their promise to propose legislation that requires fuller disclosure of campaign contributions — the sole recourse for those seeking campaign finance sanity in the wake of the U.S. Supreme Court's Citizens United decision, which allows corporations to spend unlimited amounts of money in elections.
In a December 2012 column in The Washington Post, Wyden and Murkowski outlined their proposal to draw back the curtains on anonymous donors. "At minimum, the American people deserve to know before they cast their ballots who is behind massive spending, who is funding people and organizations, and what their agendas are," they wrote.
Last month the senators formally introduced their "Follow the Money Act," which would require any organization spending $10,000 or more on electoral activity to register and disclose contributions above $1,000. The proposal would raise the threshold for disclosure by individual contributors to $1,000 from $200 for all political committees, including those of candidates and political parties.
The bill also would put in place a system of real-time disclosure, require independent groups to adhere to "Stand By Your Ad" provisions (including the identification of their three biggest donors), require federal candidates to file campaign reports electronically, and require tax-exempt 527 groups to file disclosure reports with the Federal Elections Commission. And it would direct the FEC and Internal Revenue Service to jointly craft and enforce regulations that plug the legal loopholes that have allowed dark-money campaign operations to quickly gain a formidable foothold on the elections landscape.
The need for such legislation stems from the Supreme Court's noxious Citizens United decision, which triggered an avalanche of campaign spending in the 2012 elections. Great rivers of cash flowed to dark-money groups established for the sole and cynical purpose of concealing the identities of fat-cat donors.
Wyden is a longtime champion of campaign finance reform, but Murkowski is a newcomer. In 2010 and again in 2012, she voted to block the Disclose Act, a campaign reform bill that would have required non-profit groups, unions, corporations and super-PACs to report major donors. Murkowski's change of heart can be traced to 2010 when independent conservative groups, given the green light by the Citizens United decision, helped defeat her in a GOP Senate primary. (Despite opposition from the same groups, Murkowski successfully ran as a write-in candidate in the general election.)
Murkowski and Wyden deserve credit for putting forward a bipartisan proposal, but they face an uphill climb. Their proposal already has come under fire by opponents of campaign finance regulation.
Cleta Mitchell, chairwoman of the American Conservative Union Foundation, said in a statement: "When liberals talk about 'transparency,' that isn't what they mean. What they really want and what this bill provides is a target list of conservatives who have the temerity to contribute their after-tax dollars to support candidates and issues the left hates."
No, what Murkowski — who no one could reasonably call a liberal — and Wyden want is transparency that reveals the growing mob of unrestricted and unidentified donors who underwrite virulent attack ads and other secretive tactics that make cruel mockery of American politics.