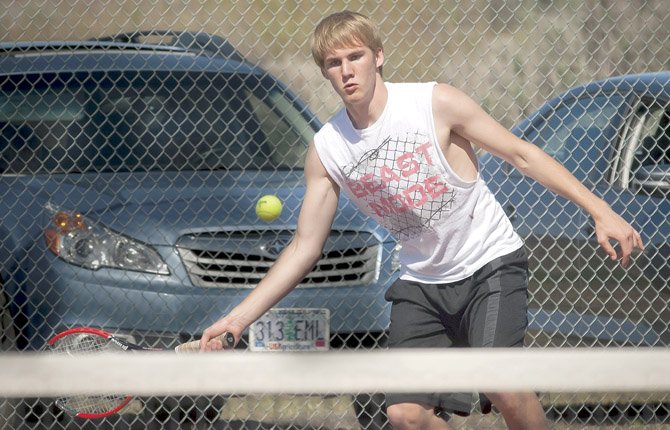 Former state tennis qualifiers and seniors, Maddie Belshe and Brian Simantel, have one last chance to extend their seasons for the Sherman Huskies, as the 4A/3A/2A/1A Special District journey continues for this group starting at 8 a.m. Friday for the first of two days of play in Tri-Cities, Wash.
One thing is sure, Sherman coach Leo Baptiste is captivated by the possibilities.
"(I am) looking forward to watching all players compete in districts," he said. "It will be a great experience for the younger players and a chance for some others to step up and play their best."
As state qualifier on both the doubles and singles circuit, Belshe tackles the
girls' singles bracket as the No. 2 seed behind Umatilla's Susan Routson for a chance at breaking through.
Last season, Routson defeated Belshe 6-1, 7-6 (4) to tally her girl's singles crown, so Belshe is eye-balling a little bit of revenge. She hits the courts after a bye against the winner of Condon's Taylor Walter and Mac-Hi's Elise Griffith pairing
First-year player Rebekah Bourgeois also suits up for singles play for the Huskies in a first-round match with Riverside's Brigette Schmidt.
Also bringing in some new blood to the district field are unseeded Hollee Kaseberg and Elvia Rubio. They hit the courts in a tough match with Stanfield's No. 2 seeded team of Yazell Chavez and Mariela Carrillo.
It will be a good opportunity for that trio to cut their teeth against some good competition.
"All of the teams in our league possess players who have the ability to do well," Baptiste said. "You can never underestimate an opponent no matter what their record is."
Last season, the doubles team of Janet Guzman and Karolyn Kaseberg took a step forward for themselves with a win to their credit, so the goal is to make another jump toward extending their season.
As the district's No. 3 seed, the Husky tandem faces off against Riverside's Paola Cuevas and Laura Ponce in what should be a high-velocity matchup.
"Janet and Karolyn are back to where they should be playing the angles that it takes to be successful in doubles tennis," Baptiste said. "Hopefully they continue to improve going into districts, allowing them to gain there first berth to state."
For the past few years, Simantel has been joined at the hip with Terran Casper for doubles competition.
They wound up placing second in 2012.
With Casper gone, Simantel has been a one-man wrecking crew in singles with some solid performances this season.
The senior enters play as a No. 6 seed and earns a first-round bye before taking on the winner of Weston-McEwen's Alex Gilsdorf and Mac-Hi's Ulises Zaragoza, so two wins earn another state trip.
Another returning standout, Alex Riggs, is penciled in for tennis action, but he has work cut out in the opening rounds opposite No. 2 seed Michael Gerhke, of Stanfield.
Newcomer Brett Lane is a player storming the scene this season for Baptiste and he can make a name for himself in the upper bracket with a huge start versus Joey Routson, of Umatilla.
A win there vaults Lane to a pivotal showdown against No. 4 seed, Mac-Hi's Ariel Martinez.
Now that he has experienced so much success with the program in preparing them for the rigors of the spring season, Baptiste is using this week to make sure the minds are right for pressure play in front of larger crowds.
The biggest thing is executing on the fundamentals and maintaining an edge.
"Being able to adjust to the competition and persevere is what we work on all year," the Husky coach said. "Our players need to stay consistent, patient and stick to their game plan. Maintaining a positive attitude and playing point-for-point will lead to success."