Editor's note: Wasco County Commissioner Rod Runyon, chairman of the commission, submitted this letter to Oregon Secretary of State Kate Brown in response to legislation being discussed in the Oregon Legislature this week that would require driver's license information to be used to automatically register Oregonians to vote.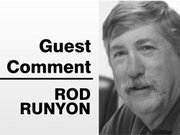 Dear Secretary Brown,
As Chairman of the Wasco County Commission, I would like to express my concerns regarding HB 3521 (FKA HB 2198-1). My concerns regarding the bill are:
Invasion of a citizen's right to privacy – many voters have opted out of being registered to vote to maintain their privacy – be it for religious, political or personal reasons. Should this bill pass, these folks will be required to take action on their part to not be registered to vote. If they fail to take action, they will be registered to vote and their information will become public.

Cost –Wasco County currently has 13,789 registered voters. Should this bill be enacted, Wasco County could possibly add 3,711 voters to their voter registration roll, bringing the total registered voters for Wasco County to 17,500. The average cost, per registered voter, to conduct an election in Wasco County is $1.67. Based on this number, the cost to conduct an election in Wasco County would increase by $6,197.67 (this is the increased cost per election). This figure does not include the implementation costs, which could amount to as much as $3,100.

Special District Cost Impact – Special Districts in Wasco County are required to reimburse Wasco County for elections conducted on their behalf. Most, if not all of these districts, currently struggle financially. If this bill passes their election costs will increase substantially.

Timeline – an emergency clause has been added to this bill, meaning it is effective on passage and must be implemented no later than Jan. 1, 2014. Processing approximately 3,700 voters will take some time. Should increased voter registrations be received prior to the registration deadline for the November 2013 election, the County Clerk's office would be forced to add staff to process these registrations. The cost for doing this would be significant.

Legality of using DMV signature – to the best of our knowledge, there is currently no statutory authority allowing the Secretary of State to use signatures gathered by another public agency for voter registration purposes. If a citizen were to challenge the use of their signature for voter registration purposes (voter registration records are public records – DMV records are not) each county could be faced with a lawsuit.
The Wasco County Clerk, Linda Brown, indicated the Oregon Association of County Clerks suggested an amendment to HB 2198-1. They suggested rolling the DMV records into an "inactive status" on the voter registration rolls. It appears this suggested amendment was not applied to the rewritten bill.
As a Wasco County Commissioner, I respectfully ask you to reconsider support of this bill as it is written. I respect your passion for getting people registered to vote, but, in my opinion, this bill is not the answer. I'm sure you've heard the old saying "You can lead a horse to water but you can't make them drink". This old saying would certainly apply here — you can force folks to register to vote, but you cannot make them vote.