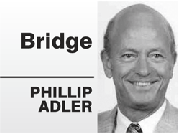 Ludwig Mies van der Rohe was an architect who worked first in Germany, then in the United States. He said, "Architecture starts when you carefully put two bricks together."
One guesses that plans might have been drawn first. However, a bridge contract will have more chance of success if declarer has two ways to get home and is able to try them both — as in this deal.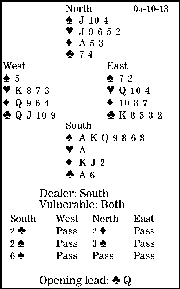 South is in six spades. West leads the club queen: four, eight (encouraging, showing the king), ace. What are declarer's two primary chances to bring home 12 tricks?
South has two potential losers: one diamond and one club. He starts with only 11 top tricks: seven spades, one heart, two diamonds and one club. A 12th winner can be established if either the diamond finesse is working or the hearts are dividing 4-3.
Since the finesse, if it loses, would be instantly fatal (the defenders would cash a club trick), it should be tried second if it is needed.
Declarer must play on hearts immediately. He cashes his heart ace, leads a middle spade to dummy's 10 (happy to see both opponents follow suit), ruffs a heart high, plays a middle spade to dummy's jack, and ruffs another heart high. When the suit breaks 4-3, South leads the spade three to dummy's four, ruffs another heart, plays a diamond to the ace, and discards a diamond or a club on the heart jack.
If hearts break 5-2 or 6-1, South would draw trumps and run trumps, planning to rely on the diamond finesse (but also having a red-suit show-up squeeze if East has the long hearts).