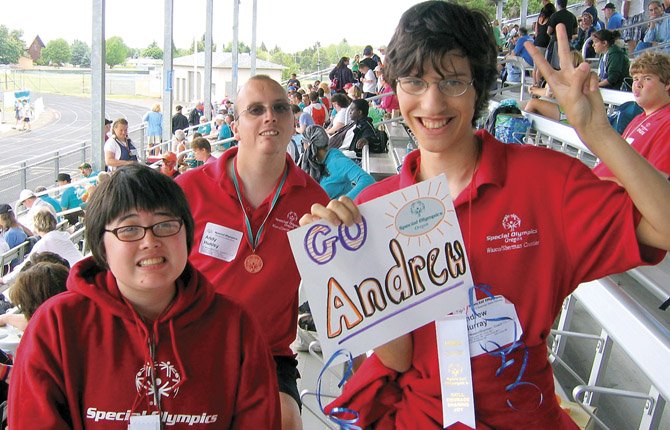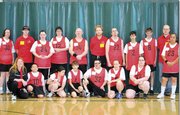 Through volunteers, a supportive community and dedicated parents, the Special Olympics program has been a mainstay of burgeoning hope and prosperity in many towns across the United States.
Janel Hughes had her first taste of the powers of Special Olympics 24 years ago when she and her husband were asked to volunteer as assistant coaches for a track and field endeavor in another county.
"Little did we know that one day we would have a special needs son, so when he came of age to participate, we jumped at the chance to involve him," Hughes said. "My son has been involved with Special Olympics since he was 12. He is now turning 20."
By volunteering and seeing these athletes smile and enjoy success, Hughes experienced an indescribable feeling.
"Most volunteers will tell you that they receive more than they give," Hughes said. "It almost seems selfish, but by volunteering, it brings feelings of satisfaction and joy to the giver."
She admitted to an epiphany when, at last year's state meet, all of the happy people, many of whom bore the visible signs of their disability in their appearance, surrounded her.
"They did not seek their own, but offered total acceptance to everyone," Hughes said. "I imagined that this would be what heaven would be like."
Special Olympics provides year-round sports training and athletic competition in a variety of Olympic-type sports for children and adults with intellectual disabilities.
The goal is aimed at giving them continuing opportunities to develop physical fitness, demonstrate courage, experience joy, and participate in sharing of gifts, skills and friendship with their families, other Special Olympics athletes, and the community.
Initially, Eunice Kennedy Shriver started the program as a summer day camp for children and adults with intellectual disabilities in 1963.
In 1968, Special Olympics was established as a not-for-profit charitable foundation based on Olympic tradition and spirit.
For almost 30 years, the program has thrived in the Wasco/Sherman County area.
The Special Olympics program covers a wide range of athletic events such as swimming, basketball, track, diving, power lifting, bowling, softball, bocce, skiing, gymnastics and soccer.
SOOR (Special Olympic Oregon) is planning to introduce tennis this coming year.
It offers only Olympian sports and both training and competition is offered to those 8-years old and up.
Along with the parents, coaches play a pivotal role in overall skill and personal development.
"There is probably two-to-three hours per week dedicated to the organizing and carrying out of the actual practice," Hughes said. "Most competitions are a one-day event at the end of the season. Parents, volunteers and coaches are especially important to the survival of our program. Without them, Wasco/Sherman Special Olympics will cease to exist."
Connie Lindskoog, who along with Hughes, plays the role of local program coordinator, has been involved in Special Olympics for 18 years, since her son was 10 year old.
She has been assisting coaches during this time.
Last year Lindskoog stepped into the role of LPC temporarily, and Hughes came along with her to an LPC retreat, put on by SOOR, to be a support.
"It was at the retreat, that we both were inspired to really take on the role of LPC," Hughes said.
The SOOR has a solid management team with Hughes and Lindskoog, a medical manager, who has been a part of the program for many years, and a finance manager.
"We have a great program, but we it want to be even better," Hughes added. "We need more people in the management positions so that it can flourish."
Several individuals are integral to this stronghold, and Hughes said there are plenty of other positions available for interested parties, such as a co-sports manager, a fund-raising manager, a communications manager, a volunteer manager and a head-coach for track.
"Each of these roles is better accomplished with a group of individual support people behind them (volunteers, parents and athletes)," she said. "We have wonderful coaches and assistant coaches, who care about each athlete. We couldn't offer the sports we have if they were not involved."
There are more than 50 athletes on the active roster and Hughes said there are many individuals in the community who are yet to benefit from the sports programs the SOOR offers.
Training is available for all coaches and the management team. Basketball just concluded and the Tip-A-Cop fundraiser was deemed a successful venture.
"We have the money in place to run another successful year, but we need the necessary management team to accomplish this," Hughes said. "While we do have some with downs in our program, we have a lot more with many other labels. This group of people has similar challenges and this program provides an arena of respect and a chance to excel in their chosen sport."
To join the management team or to volunteer, call 541-296-1247 or email janelhughes@gmail.com.