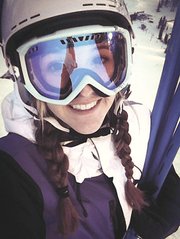 As a small fish in a big pond, Maya Barnard-Davidson went into her Nationals experience with an open slate.
With a limited practice slate to hone her talents, The Dalles Wahtonka senior expressed a positive vibe when discussing her latest excursion to Copper Mountain, Colo. for the United State of America Snowboard Association event.
Barnard-Davidson secured second-place recognition in her two tries on the Superpipe course and performed well on Slopestyle for eighth place in a successful two-event showcase.
"I feel that I did do well competing with the best, and that if I work harder I can be even better than I can imagine," Barnard-Davidson said.
The senior admitted that she was not fazed by the competition per se, but more so on the courses that she had to maneuver.
"Everything was bigger there, the jumps were bigger and the Superpipe was even more 'super,'" she said.
"It did take me a good day of mental pep talks to get my mind where it should be and to make me more successful overall."
In her first event of the trip, Slopestyle, the Tribe senior called it the scariest experience of her young life.
The course consisted of two rails and three jumps and while the rails were normal to what she works on during practices, the jumps were bigger than any she had executed in her life.
Due to unforeseen circumstances, Barnard-Davidson had one run – in her words, she stomped the rails and secured eighth place in the standings, up from her original 13th-place ranking.
"I got them down well and the jumps I did very, very terribly on," she said. "Even though I did not do well, I did not come in last place, and I did not injure myself, and for this I am thankful."
After that, Barnard-Davidson felt more at ease in her showing, so this calm allowed her to perfect her skills on the Superpipe.
"I had two very good and solid runs, ending with a second place finish," she said.
This past Nationals event is a rare experience for most athletes who are given the opportunity.
While the season is complete, Barnard-Davidson plans to throw her hat in the ring once again next winter to participate in regional competitions in the open class women's division to work her way back to Nationals in a different group altogether – there she would be eligible for cash prizes.
Skiing and snowboarding is without question and demanding and grueling sport that requires countless practice hours and dedication to become successful. When thinking of dedication and support, the Eagle Indian athletes sent well wishes and credited her parents, Mark and Candy Barnard-Davidson for being by her side every step of the way.
They are both active on the running circuit and although his free time is limited, Mark makes trips to the pole vault pit to strut his stuff.
Maya said her parents have always been a wonderful influence when it comes to being active and she is grateful that her parents are so encouraging.
"They encourage me to go after my dreams, and they also help me along the way," Maya said.
"This is not to say that they haven't given me 'sink or swim' moments to start getting me ready for the real world and adulthood. My mother and father, as one unit, have mastered the perfect formula and balance of nurturing and tough love."
Adulthood is the next phase for Maya Barnard-Davidson. All of the life lessons learned through athletes and trial and error have prepared her for this next journey.
She has narrowed down her collegiate options to College of Idaho or Western Washington University – two schools that have strong science programs, as Maya's interests lie in the fields of biology and chemistry – she will look into a degree that has to do with biochemistry.
Maya is crafty in her college choices, however.
For some reason, those schools are within driving distances of ski areas.
"One activity I will never stop doing though, is skiing," she said.