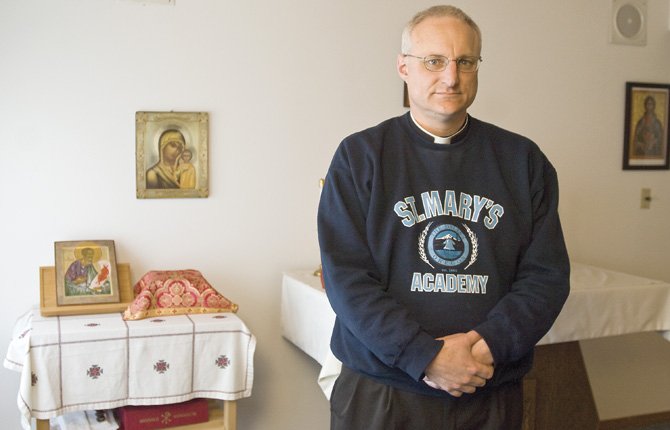 A local minister once likened writing a Sunday sermon to doing a school research paper every single week —— a daunting task, when viewed in that light.
Fr. Joseph Levine, pastor at St. Peter Catholic Church in The Dalles, shared his process for preparing a homily, as a sermon is called in the Catholic Church.
Levine not only has weekend mass on Saturday and Sunday, but also performs a daily mass for which he also has to prepare a homily.
And while his homilies at daily mass are shorter and a bit more off the cuff –— he does a different one each day — — his Sunday homily requires considerably more preparation.
The Sunday homily "is the thing I most prepare for, so it probably does structure my week."
Levine considers himself a teacher, and uses his homilies to give context and background to Scripture.
The scriptural readings he'll preach on are already set out in a three-year lectionary cycle. He'll look up the passages early in the week, or sometimes the week before.
"I'll look at the readings, I'll pray, and then it really varies, because the question is, what do I need to speak about?" he said. "Sometimes, the kernel comes to me right away, sometimes, it's, 'What am I going to speak about next Sunday?'"
Once he's got that kernel of an idea, the real work begins. He's got to figure out how to introduce the topic, "because that start is very important." Then he has to figure out "How am I going to make this understandable and accessible? How am I going to relate this to people's lives? Sometimes that's easy, sometimes it flows, sometimes it doesn't."
But once he's got the flow, he can quickly craft a homily, coming up with a 1,500-word draft on his computer, sometimes in just a couple of hours.
"Sometimes I'll practically have the homily composed in my head. The next step is finding the time to sit down at the computer when I'm able to focus."
Once he gets a draft done, he tweaks it, usually to edit it down. His homilies run about 12-15-20 minutes, which is longer than most, he said. "I'm not sure there's not somebody out there timing me," he quipped.
"More than 10 minutes is regarded as long these days," he said. "But I'm trying to really teach, not just saying a few inspiring words. Inspire as well, but I'm trying to explain things as well that don't often get explained, and that takes time.
"I can be simple and punchy and short, but there's an elephant in the living room," he said. "And explaining the elephant in the living room – — that's what takes time."
The 'elephant' is "usually some connection with our modern life and culture."
He says he also doesn't "dumb down" his homilies. "I will challenge people to think, but I think that however difficult the homily there is always something that anyone can understand."
He also writes it out, which is against the recommended method of just using an outline.
But writing it keeps him from going too long, and helps him to think through ideas better. He knows a priest who writes his homilies out fully, then memorizes them word for word.
"I can't do that."
Having a written homily has helped in that sometimes he's had parishioners ask him for a copy of it, so they can read it more fully on their own.
A lifetime of his own experiences and formal and informal education – — the years of study and meditation he's done on the Scriptures — — goes into writing his homilies. He considers it his "remote preparation" for writing his homilies.
Levine said he has a "very atypical" background for a priest.
"I was raised in a world where religion was seen as something not relevant, antiquated," he said.
He attended the University of California in Berkeley before becoming Catholic and later graduated from a Catholic college in California, St. Thomas Aquinas College.
He went to seminary in Brazil, living there for years, and later studied in a Benedictine monastery in France.
He picked up Spanish,a bit of Portuguese, Italian and French and Italian in those travels. Now he has to preach in Spanish as well as English.
While it is common for mainline Protestant ministers to have a strong knowledge of at least Biblical Greek, he said Catholic priests "will learn some Greek, some Latin, very little Hebrew."
He taught himself Greek and furthered his study of Latin beyond his two years of study in college. He can read some Hebrew, but its "laborious," he said.
He doesn't consider himself a strong linguist, but rather said his faculty for the rules and logic of grammar has enabled him to pick up languages.
Now, his familiarity with the original languages most often reflects in the way he quotes passages from Scripture. Sometimes, he won't use the passage in the lectionary because he's not happy with the translation. Other times, he'll not only provide his own variation, but mention the variation he's made brings in something to the homily from the original languages the Scriptures were written in.
"Sometimes it will be my own reflections, on what's in the original that might not be fully conveyed in the translation," he said.
Two other key guides for his homilies are the famous philosophers and Catholic priests St. Augustine and St. Thomas Aquinas, both of whom he's read in the original Latin.
"There's a very rich tradition of philosophy in the Catholic Church and it's very important for a deeper understanding of the faith," he said.
"I will challenge people to think," he said. "I try to give some appreciation of the 'depth of the wisdom and knowledge of God,'" he said, quoting from Romans 11:33.