Benefit Concert
Friends of the Solberg-Gonzalez family are hosting a benefit concert this Sunday, May 12, at 6:30 p.m., at the Rivertap Pub in The Dalles. Money will help with family expenses related to Sophia's illness.
It's the thought no parent wants to contemplate: Your child has a life-threatening disease. Since the beginning of February, Rachel Solberg and her husband Jonathan Gonzalez have been living that nightmare with their daughter Sophia Gonzalez.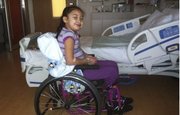 "[Rachel] is fighting for her daughter's life," explained Michelle Berish, who nominated her for this Amazing Moms feature.
"Sophia Solberg is a first-grader at Chenowith Elementary," Berish wrote. "Around the beginning of February, she became very sick and had to be LifeFlighted to Portland. She almost did not make it."
Sophia was released Feb. 26 and returned to school in a wheelchair, weakened by her ordeal. She returned to Doernbecher's Children's Hospital with a relapse in April.
She had been disagnosed with Wegener's Disease.
According to the Mayo Clinic, Wegener's granulomatosis is an uncommon disorder that causes inflammation of the blood vessels, restricting blood flow to various organs. It often affects kidneys, lungs and the upper respiratory tract.
Sophia has three brothers, Jonathan Jr., Marcus and Giovanni.
Rachel and Jonathan have put their jobs and the other aspects of their lives on hold to watch out for Sophia's welfare as she fights for her life at Doernbecher Children's Hospital.
"There's so much up and down in this disease," said Karen Solberg, Rachel's mother. "Basically, it attacks the organs. It's been in her kidneys and lungs. In the last episode she had strokes and it attacked her brain." Through it all Rachel and Jonathan have taken shifts at Sophia's bedside in the Intensive Care Unit, staying at Ronald McDonald House when not at the hospital.
"Through this all, I just feel Rachel has been super-strong," Karen said. "When she's inside the ICU, I think she does an excellent job of being super-strong. She waits until she's away from Sophia to break down."
She rarely leaves Sophia's side, so much so, that Karen worries about her daughter's own welfare.
"It's hard to get Rachel to go take a break, to go and get something to eat," she said.
As Rachel stands vigil in Portland, Karen has taken on the care of Rachel's two boys, traveling to be with her daughter and granddaughter as time allows.
"I'm sure there are a lot of people out there that go through this, but it has turned our world upside down from normal family situation to middle of the night calls of 'Mom I need you, come now.' It's just been constant."
Despite the current crisis, Rachel has worked to stay connected with her sons.
"It just amazes me how she keeps everything under control there and here," Karen said. "She talks to the boys every evening, no matter how tired she is … It's great how she can still do her parenting skills from there. Boys sometimes can be hard to manage, so I just give mom a call, she gives them a little talk and the boys and I get along good."
As anyone can imagine, the experience has been devastating for Rachel and her family.
"I don't know how to put it in any other words," Rachel said by phone May 10 from Portland. "I don't wish it on my worst enemy."
The Solbergs thought Sophia had beat the illness when they returned from the hospital Feb. 26, but she was back in the hospital weeks later, passing her eighth birthday April 30 in intensive care.
"It's been extremely rough on her," Rachel said. "Yesterday she was crying quite a bit. She was upset and didn't understand. I don't know what to say to comfort her."
But Rachel tries to maintain a strong front for Sophia.
"I just keep telling myself it's going to get better, that she's going to go home," Rachel said. "I'm thinking positive. I have to stay positive."
The Solberg-Gonzalez family has incurred quite a bit of financial hardship as a result of Sophia's illness. A benefit fund has been established in Sophia's name at Rivermark Community Credit Union. A benefit concert is planned Sunday, May 12, at 6:30 p.m. at the Rivertap Pub, 703 E. Second St., The Dalles.