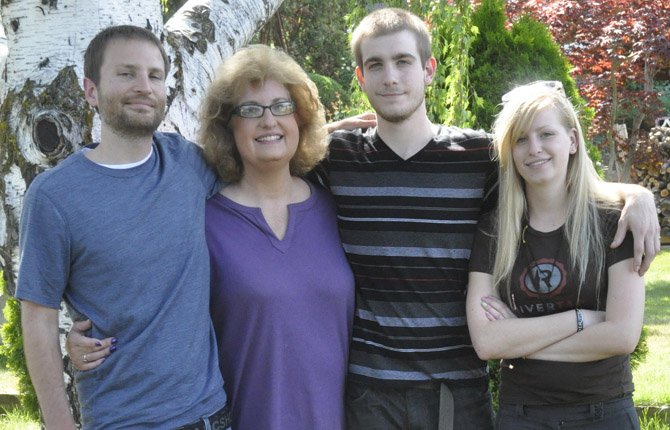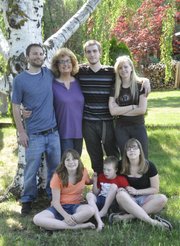 Being the parent of six children would be challenge enough, but Kelly Stone has also home schooled each of those children, and her youngest child has special needs.
She's also been a single mom for the past two years and she works from home for an educational software company, writing children's books, editing and tutoring online writing students.
"She's really awesome," said Faith, her second-youngest child, who nominated her for this Amazing Moms feature. "It's pretty hard to raise six children alone, especially with a special needs kid."
All six of Kelly's children were on hand to attest to their mother's awesomeness.
"She's the smartest woman I know," said Davy, 19.
Among Kelly's favorite sayings: "There's room in the world for all kinds of people."
Sitting in her east The Dalles living room with her children around her, Kelly seems content with her children in their various stages of growth, who include not only Faith and Davy, but Jim, 29, who recently moved back to The Dalles from Colorado, Julia, 20, Carolyn, 15, and Joshie, 8, who has Down's Syndrome.
"As far as having a larger family, I have learned to be satisfied with adequate, and not to expect anything to be done perfectly," Kelly said. "I don't stress very much, as long as everybody is happy and healthy."
She decided to home school her children because she knew and admired a family that home schooled.
"Now I'm doing it because it's what we've always done, what we're used to and what the kids like," she said. "And I think I'm better for having home schooled."
She doesn't just teach from a packaged curriculum. Instead she reviews and evaluates information for herself before teaching it to her kids.
"She always used to make school fun, with little side trips everywhere," Davy said.
For example, if the kids were reading a book on ducks, they would take a field trip to feed the ducks. If they were studying French, baguettes and other French foods would be on the menu.
When she started, Kelly tried to recreate school at home with separate classroom and desks, and specific time set aside.
"That's not home schooling," she said.
As the years have gone by, it's become a lifestyle."
With so many children, Kelly has worried about having one-on-one time with each son and daughter.
"I've always tried to schedule one-on-one time once a month," Kelly said.
With Julia, she gets pedicures. With her younger daughters, she might have dinners out. With Davy, a recent pool night was a fun experience for both.
Raising six kids means sometimes relying on the oldest to look after the youngest from time to time. She tries to make sure the older girls don't feel too burdened by requests to care for their siblings. If she needs babysitting help, for a specific date and time, she'll pay the girls for the service.
If Kelly is just dashing out to the store, an older sibling will watch the younger "because that's just something you do for family," she said.
"She's very wise," says Carolyn.
Davy agrees.
"Mom has just really always put her kids first and our needs and stuff," he said, "even in some ways teaching us right from wrong."
"We've gotten a lot of good advice," Jim added. "Whenever we're in a crappy situation we always call and ask for advice."
"I've often told the kids, 'I can tell you what not to do because I did it wrong,'" she said. "I don't try to whitewash. I think my kids can learn from my mistakes."
Her advice, wisdom and care has one primary goal: "I want them to be nice people and I want them to be happy," Kelly said. "When they were tiny little children, I had much more specific ideas of what I wanted my children to be."
Grow up, go to college, get married, have children, in that order, she said.
"It would be really boring if everybody did that," she said. "They've chosen different paths that are fascinating and wonderful."
Speaking of her youngest son, Joshie, Kelly says he has solved her worries about empty nest syndrome.
"Joshie is such fun to have around!" she said. "I don't consider his special needs a burden at all. After five typical kids, it's refreshing to have a little different journey the sixth time."