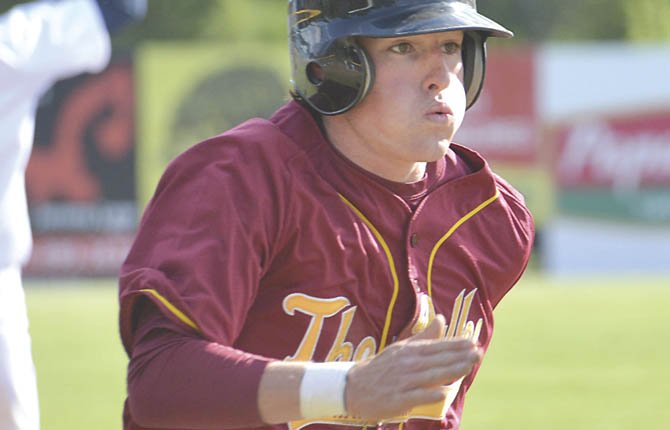 Hood River — Starting 0-3 in the season series, No. 11 Hood River Valley had one more chance to get a win versus The Dalles Wahtonka.
And they did so in statement fashion.
Kyle Beam went 3 for 4 with three RBIs and the Eagles took advantage of four Tribe errors to run away with a 6-1 victory Friday night in both teams' Columbia River Conference finale in Hood River.
In the bottom of the third inning, Beam started the scoring with a one-out, two-run triple off TDW starter Connor Mathisen to bring home Alix Jimenez and Ryan Colesar to make it, 2-0.
TDW finally solved a crafty Ryan Ward in the top of the fourth with a single tally, as a two-out double by Zach Cantrell cashed in Steven Bartells, who earlier received a walk.
Over the final three innings, however, the Eagle Indians managed three hits and stranded three base runners.
After TDW had closed the gap in the top of the fourth, Hood River landed the knockout blow with four runs on three hits, two walks and a TDW error.
Luke Kopecky, Colesar, Beam and Nick Weekly all had run-scoring hits.
Overall, HRV rattled off eight hits and Jimenez, who went 1 for 4 with two runs scored, followed up Beam.
Mathisen, a senior, lasted just 3 1/3 innings and he allowed six runs, three earned, on seven hits with two walks and no strikeouts.
Kaci Kiser and Cantrell paced the Eagle Indian offense with two hits each, and the duo of Clay Copper and Justin Sugg stroked singles for a TDW squad that went 0 for 7 with runners in scoring position.
With the loss, the Tribe dropped from No. 2 down to No. 4 with one game left.
TDW (18-7 overall, 9-3 league) hits the field at 4:30 p.m. Tuesday against 6A North Salem (17-8).
Sherman swept in Pilot Rock
A starting pitcher can only do so much when the defense behind him commits 13 errors that lead to 18 unearned runs in 10 innings.
That was exactly the case Friday, as the Sherman Huskies ended the regular season with a pair of mercy-ruled losses to Pilot Rock in their Blue Mountain conference finale.
In the opening game, the Rockets started with five runs in the first frame and tacked on seven more in the second to lead 12-1 through two innings.
Sherman inched as close as 12-5 after a four-run outburst in the third, but Pilot Rock kicked in two runs in the third before putting the mercy rule in effect with a single run in the fourth frame.
Austin Kaseberg took the loss for Sherman, with two innings of six-hit ball. The right-hander walked five and struck out two. Of the 12 runs he allowed, four were earned.
Offensively, Eddy Lopez went 1 for 2 with two runs and an RBI, and Jarred Davis had a hit and drove in a run.
Riley Brown had a hit and a run scored, and the duo of Alex Fields and Kaseberg had a hit apiece.
Davis hit the bump in the second game and the defensive miscues continued for the Huskies, who committed errors that led to 10 unearned runs in a 16-2 five-inning affair.
Sherman's offense consisted of one hit, by Kaseberg, who added an RBI and both Brown and Jonah Davis received a walk and scored a run each.
The Rockets, who can finish in third place behind Dufur if the Rangers sweep Weston-McEwen Saturday still managed 18 hits on the night, and the Husky pitchers issued 14 walks.
Sherman (4-16 overall, 3-11 league) ended the season on a seven-game losing streak, but still amassed one more win than 2012 to finish in sixth place.
TDW loses fourth consecutive game
No. 14-ranked The Dalles Wahtonka lost their fourth consecutive game in a 7-2 matchup versus starting pitcher Kayla Byers and the Hood River Valley Eagles Friday in Columbia River Conference softball action in Hood River.
Things started out well enough for the Tribe (11-14 overall, 2-10 league), who scored a run in the top of the first inning to lead 1-0.
However, the Eagles erased that one-run deficit with four runs in the third frame and reeled off two more in the fifth to jump ahead 6-1.
TDW finally inched across a single run in the top of the sixth inning, but the Eagles answered that tally with one of their own to produce the final margin.
Byers tossed a complete game with six strikeouts and no walks.
No. 6 Hood River (14-9, 4-8) rapped out 12 hits on Tribe pitching and TDW managed just four hits off Byers and committed three errors.
In the past 10 softball games, TDW has gone 2-8, scored 23 runs and allowed 66 to secure their first losing season since the 2004-2005 The Dalles and Wahtonka school merger.
The Eagle Indians travel out to Beaverton for a makeup contest against 6A Westview (15-10) in Beaverton at 4:30 p.m. Wednesday.