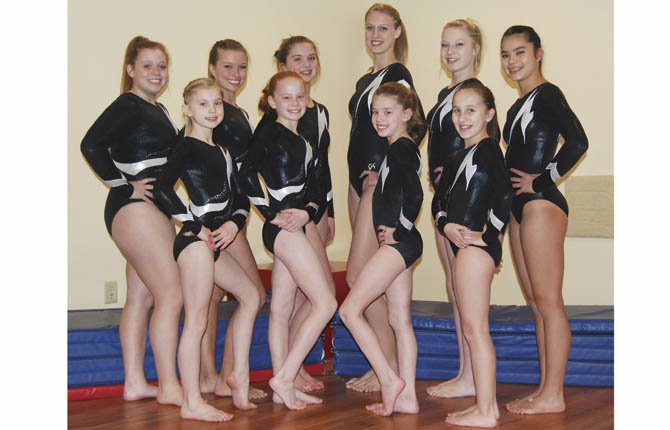 The Dalles — Audrey Hinatsu and Emma Smith were unbeatable at Oregon's optional gymnastic championship held in Eugene last month.
Hinatsu balanced her way to a first place on beam with a 9.575 and an all around fourth-place finish that scored 37.075 at level 8.
At level 7, Smith grabbed the gold on vault with a 9.25 as she turned in an all-around seventh-place score of 35.75.
Their teammates also cashed in on big scores for hardware after a successful season that started in February.
Coaches Mike and Candy Smith said they are proud of the girls who practice more than a dozen hours a week.
At the level 8 state championship, Cedar Wiley finished third on beam with a 9.0 and sixth all around with a total 34.025.
Taylor Sugg took fourth on bars with a 9.25 and finished eighth all around at 36.375.
Hinatsu and Sugg also earned spots at the regional finals in Seattle, facing competitors from Washington, Idaho, Montana, Hawaii, Alaska and Oregon.
It was difficult to keep Riverside's level 7 team out of the top 5 at state.
Sammy Minnick took second on beam with an 8.8 and then finished her rotation by capturing third on both vault and bars to finish with a second-place all around total of 35.3.
Courtney Hert stuck a 9.25 on vault for third place. Bailey Coyner doubled her thirds with a 9.3 on vault and 8.775 on beam.
And Elena Cardosi buckled down for a fourth on bars, beam and an all around that scored 36.325.
The level 8 team, comprised of just Hinatsu, Sugg and Wiley, combined scores all year in the hunt for a team trophy.
They struck pay dirt at the Rose City Challenge in early March, taking a second place trophy.
Hinatsu led the team that day with a scorching 37.575 all-around score after she ran the tables, taking first in all four events – it was the second time she knocked out four first-place finishes in as many weeks.
At the same meet, Wiley chipped in two first place finishes on beam and floor, and Sugg tucked away a second on bars with an 8.95 to pump up the team total.
Sugg and Hinatsu also brought the heat at the Emerald Team Challenge with firsts on bars and beam.
They landed second and third place all around scores with 36.75 and 37.075, respectively.
The level 7 team also had a successful campaign this spring, improving scores on the way to state.
A well balanced attack from the majority of the team brought strong team scores.
Minnick, Coyner, Smith, Cardosi, Hert and Hannah Caracciolo all contributed during the course of the season.
The team also captured a team trophy at the Rose City Challenge with a third place finish. Caracciolo went first on vault.
Cardosi tucked a 9.2 bars routine and all around second-place finish of 36.275. Minnick also finished second all around with a 35.55 that day.
Riverside Gymnastics Academy is a nonprofit, offering recreational and competitive programs for boys and girls at 2221 River Road, The Dalles.
For more information on the club or to sign up, call (541) 993-8625 or go to riverside-gym.org.