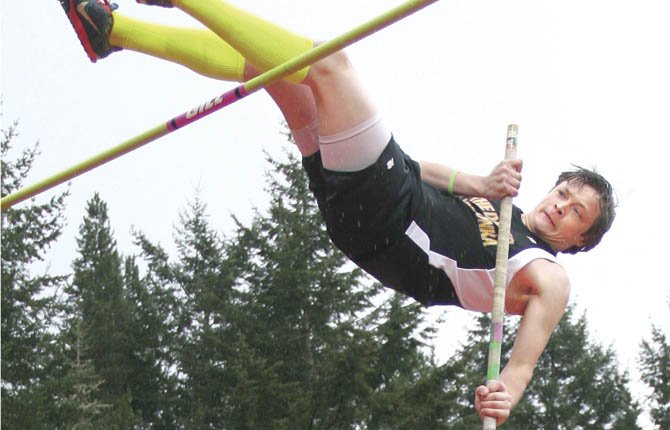 The Dalles — Right on cue, The Dalles Wahtonka took their last chance before the district dance to make some moves on the track Friday in Hermiston.
Yasmin Hill, Brittany Babb, Zach Nerdin and Harris Farr soared to top finishes, and reigning state placer Lio Tunai added another gold notch on his belt in the Columbia River Conference Last Chance Meet at Armand Larive Middle School.
Babb, a junior, hit her stride in the 100-meters with a top time of 13.18 seconds, for the best time out of 36 participants.
Hill never left any doubts in her long jump event, as her leap of 15-feet-11.75 inches bested Pendleton's Amanda Fowler (15-11).
Up-and-coming freshman runner, Emily Morin, kept the good feeling going in her 1,500-meter race, where she topped out at five minutes and 29.44 seconds.
Hill also placed second in pole vault where she measured in at 9-00, but on this day, senior Maya Barnard-Davidson dominated action with a 9-06 for first place.
Ana Gonzalez added a second in javelin at 81-01, Alyssa Carrico (77-02) was third in the same event and senior Anna Daggett strutted home in third place in her 3,000 meters in 14:15.62.
Sophomore Olivia Starks tossed a 92-08 for third in discus, Katie Burns scored a 50.38 in the 300-meter hurdles and the 4x400-meter relay team of Burns, Avery Cardosi, Bri Stavaas-Jamack and Marta Gamez whistled home in 4:41.00 for second place recognition.
On the boy's side, Nerdin had a banner day in the 110-meter hurdles where he crossed the tape with a personal record of 16.08 seconds, a shade ahead of Hermiston's John Stollery (16.09).
Farr traveled 19-11.00 in the long jump for top honors; Tunai had a throw of 48-07.50 in the shotput to cap all of the first-place participants.
In the 1,500-meters, Elijah Kohltfarber had a respectable time of 4:34.84 for third place, Nerdin chalked up third in the high jump at 6-01, and junior Mark Johnson matched his career-best in the pole vault with his 11-06.
Sant Strassheim had a 19-03 in the long jump for third place and David Esquivias placed fourth in javelin at 135-05.
The 4x400-meter relay squad of Farr, Nerdin, Grant Pearson and Strassheim matched forces for a 3:44.67 for fourth place.
Tunai placed fourth in the discus at 131-03, one slot ahead of Joey Duong (124-09) and Farr (5-10 in high jump) and Ian Corey (5-04) went fourth and fifth respectively in the high jump.
TDW has a week off until hitting the track again for the two-day CRC district tournament at 3 p.m. Friday, May 17 at Henderson Stadium in Hood River.
.