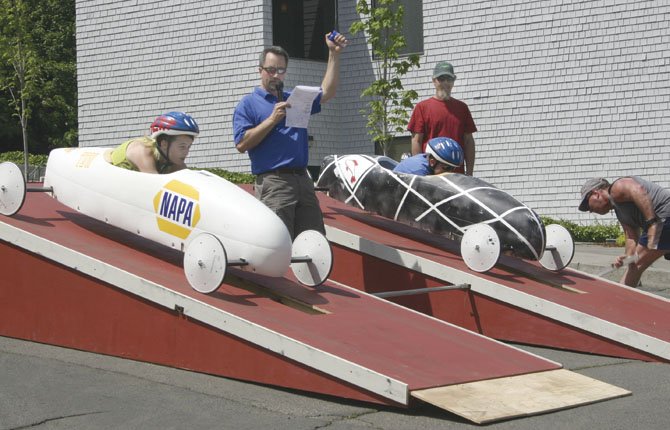 Student drivers from around the Mid-Columbia gathered Saturday, May 11, to test their skills in engineering and driving at the Gorge Gravity Games.
Streamlined soapbox derby cars swooped down Court Street, aiming for the best times. They represented nine middle school and high school teams.
This was the second time the games had been held. Last fall, the event started with starting ramps borrowed from Salem.
This year the event had its own ramps, thanks to a team effort from The Dalles Wahtonka High School's woodshop students, which built the wooden ramps, and AAA Metal Fab, which built the release gate.
The shop students had from Monday to Wednesday to complete the wooden ramps, which were built with discounted lumber from Tum-A-Lum.
AAA's Dennis Stevens and Jeremy Sawdon put the release gate together, and donated most of the materials and all of their time. "I don't have words to express how awesome these guys are," said Holly Morris of OSU Wasco County Extension, which helped organize the event.
Plans for the stop gate required a drive shaft, which organizers didn't have, but that didn't stop Sawdon and Stevens.
"They had to create the whole thing from scratch," Morris said. "They were done in 24 hours and it was ready to deliver on Friday."
Competition in the soapbox derby is through elimination brackets at the high school and middle school levels.
Drivers run twice to determine who advances, noted Dave Karlson of Google, the event's moderator. After the first run, competitors swap lanes and wheels to assure that any variations in conditions are accounted for.