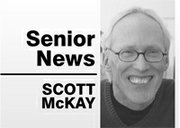 As we move closer to summer and the temperatures rise, it's the time when door-to-door salespeople start hitting the sidewalks.
And because of recent complaints, Attorney General Ellen Rosenblum is warning Oregonians that "Although most of the activity conducted by door-to-door salespeople is legal, there are some solicitors who do not follow the law, and even more who use aggressive tactics."
For more information about door-to-door sales, you can go to the Oregon Department of Justice's website.
But for you busy people, here is the short and sweet version. (1) Don't open the door; (2) Don't let them in; (3) Don't sign on the spot; (4) Be aware of scams; and (5) If you do sign a contract, you have only THREE days to cancel.
But I have another suggestion. Why not open the door wearing a "Yellow Polka Dot Bikini" (or Michael Phelps Speedo brief) with a glass of red wine in one hand and an open umbrella twirling in the other. That should be enough to frighten any salespeople so they won't ever come knocking again. (Just make sure you have a good explanation when the police arrive!)
Last week I mentioned the public transportation options in Wasco County provided by the Transportation Network (LINK). But for our neighbors to the east, the Sherman County Community Transit also provides dial-a –ride services plus weekly trips to The Dalles on Mondays and Thursdays for a $5 round trip. For more information call 541-565-3553, Monday through Thursday from 9:30 a.m. – 3:30 p.m.
The last of this spring's Creative Arts Classes led by Debra Jones will be held at the center Tuesday, May 28, at 1 p.m. The theme is Memorial Day Memories. Participants will cut strips of fabric on which everyone writes the name of someone they want to remember. The collected strips will be strung together and hung for everyone to see. And for next fall, Debra is already preparing for the classes starting in September.
It is again time for another Saturday breakfast on the May 18 from 8 to 9:30 a.m. sponsored by Leann Curtis and her team at The Dalles Health and Rehabilitation Center. Why cook when you can enjoy a delicious breakfast, gather with friends and support the Center all for only $5.
No Tuesday Lectures on May 21 and 28, but will return June 4 when Valerie Kendrick, director of Great and Small Child Development Center, discusses "Why Children Act the Way They Do." And on June 11, Tim McGlothlin, School District 21's Technology Coordinator, will discuss how technology is used to enhance education.

And before bugles blow and foxhounds take off, playing tonight at the Center is Martin and Friends. And on the May 23, Truman will be playing his Country Gold. Music starts at 7 p.m., everyone is welcome and donations are appreciated.
The first name of Mr. Ed's eccentric owner was Wilbur. (And this week's winner is Dee Holt.) And for this week, the "Remember When" question came from a recent donation to the Center of fifty plus CDs featuring music from the 40's and 50's including several from this American jazz vocalist known as the "Queen of Jazz."
She performed from 1934 until 1993 and had such hits as the 1938 song "A-Tisket, A-Tasket" as well as the influential "Song Book Series" on Verve Records between 1956 and 1964.
What is her name? E-mail your answer to mcseniorcenter@gmail.com, call 541-296-4788 or send it with a copy of the 1972 "Is it live or is it Memorex?" television commercial.
Well, it has been another week trying to walk the tightrope without falling. Until we meet again, don't let the fear of flying keep you from taking off.

menu
Wednesday (15) Stew with Peas and Biscuit
Thursday (16) Hot Turkey Sandwich with Gravy
Friday (17) Meatloaf and Cheesy Macaroni
Monday (20) Fish with White Sauce
Tuesday (21) BIRTHDAY DINNER Turkey and Dressing with Gravy