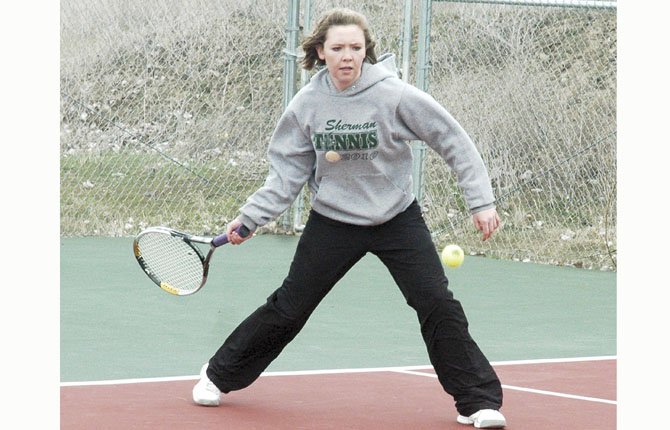 Sherman senior Maddie Belshe would not be denied her chance at district tennis glory.
After a first-round bye, the No. 2 seed breezed through three consecutive wins to advance to the championship match and then worked a straight-sets win over Umatilla's Susan Routson to hoist her district crown Saturday in 4A/3A/2A/1A Special District 4 varsity tennis play at Tri-City Court Club in Kennewick, WA.
In her championship match, Belshe faced an old nemesis in Routson, the 2012 girl's single title winner.
With a sense of revenge on her mind, Belshe showed a strong will and determination to win the championship over Susan Routson by taking the opener by a dominant 6-1 tally.

Up 1-0 in the duel, Belshe fell behind Routson by a large margin, but as the match wore on, the Lady Husky senior started to build some momentum.
With the contest knotted at 5-apiece, Belshe put the finishing touches on the deal by netting the final two set points for a 7-5 triumph.
"It was a very good match," said Sherman tennis coach Leo Baptiste. "Maddie was very poised and stuck to the game plan. She played smart tennis and had great ball placement on the court. Her ability to stay consistent with this plan allowed her to come out on top."
For Baptiste, this is the third year as coach and each year he has had at least one district champion between the men and women.
Earlier in the tournament, Belshe had little trouble in her opening three tussles, allowing just three set points in her three wins.
She started with a 6-0, 6-2 trouncing of Umatilla's Holly Lougoe and then rolled to a 6-0, 6-0 whitewash over Mac-Hi's Elise Griffith to punch her semifinals ticket.
What stood in the way of the Sherman senior and a title bout was No. 3 seed, Mac-Hi's Estefani Lamas.
As much of her tournament had gone, Belshe hardly broke a sweat in her showdown with Lamas, where she motored through by lopsided scores of 6-1, 6-0 to vault into the finals.
With Belshe's efforts along with a first-round win by No. 8 seed Rebekah Bourgeois, the Husky girls posted 19 points for second place in the standings.
Umatilla claimed a team championship with 47 points and Stanfield rattled off 14 points for third place, while Mac-Hi placed fourth at 13.
Bourgeois did not blink an eye against Riverside's Brigette Schmidt and cruised to a 6-2, 6-3 decision to advance a round.
However, in the next round, Bourgeois ran into Routson, with the Viking standout coming out with a 6-0, 6-0 winner.
Also on the singles side, Katherine Shafer lost her opening match in an 8-3 pro-set matchup to Riverside's Bianca Barajas.
As the No. 3 girl's doubles seed, the duo of Janet Guzman and Karolyn Kaseberg hit the courts against Riverside's Paola Cuevas and Laura Ponce.
Hollee Kaseberg and Elvia Rubio teamed up in their doubles match, but they had some work to do against No. 2 seed Yazell Chavez and Mariela Carrillo, of Stanfield.
Chavez and Carrillo came away with a 6-0, 6-1 winner to advance a round on their way to second place overall.
The girl's doubles championship had two teams in Chavez and Carrillo meeting Umatilla teammates Muranda Cranston and Anali Rubio.

Cranston-Rubio won the first set 7-5, while Chavez-Carrillo took the second set by a 7-5 margin.

The third was decided early, as Cranston and Rubio broke the Stanfield team three times to go up 5-0, before winning, 6-1.

Cranston and Rubio finished with a 21-1 record overall with three team and individual titles.
Umatilla's boys completed the district title sweep with 41 points, besting Mac-Hi, who scored 26 points.
Stanfield garnered third place at 18 points, Ione (11), Weston-McEwen (5), Riverside (2) and Sherman (2) rounded out the standings.
The three Husky singles players Brett Lane, Brian Simantel and Alex Riggs could not grab a win in tournament play. Simantel, a No. 6 seed, had a first-round bye for his tournament and next hit the courts against Mac-Hi's Ulises Zaragoza.
The Pioneer standout went to work and made some headway with winning scores of 6-2, 6-4 to move along in the bracket.
Sherman newcomer Brett Lane lost his first match by an 8-0 score to Umatilla's Joey Routson, and teammate Alex Riggs wound up losing to Michael Gehrke, a No. 2 seed from Stanfield.
In evaluating the overall performances of his athletes, Baptiste saw tremendous growth across the board.
Winning is one thing, but developing a love of the sport is paramount.
"It has been a pleasure coaching all of the players this year and I am proud of all of them no matter what the outcome," the coach said. "All I can ask is that they give 110 percent effort and leave it all on the courts with no regrets."
It means so much to the program as a whole to have some solid foundation pieces who have given Sherman some recognition.
Martin Rubio and Gehrke both ran through their semifinals matches to meet in the singles championship where Gehrke came out on top by scores of 7-6 (1), 6-4.
In the doubles championship match, two Umatilla teams made up of Danny Garcilazo and Alejandro Madrigal hit their stride versus Edgar Magana and Ramiro Rubio, where nobody let down intensity as they split sets by scores of 5-7 and 6-4.

The third set went into a tiebreaker, in which Garcilazo and Madrigal came on top, 7-6 (4).
The three-day state tennis tournament kicks off Thursday at the University of Oregon in Eugene.