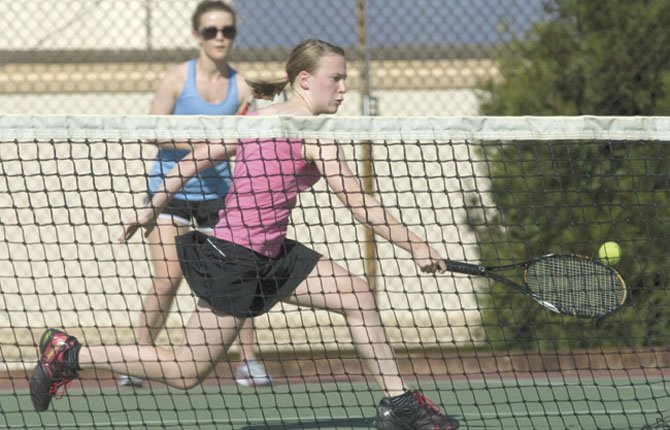 Staked by a resurgent consolation championship effort from Katie Mazeski and Johanna Wilson, The Dalles Wahtonka girl's tennis team more than doubled its win total from 2012 with five victories this past weekend in 5A Special District 1 tennis play at Hermiston High School.
"We only won two matches at last year's district tournament and to see that tally bumped up to five this year really makes me feel as a coach that we are on the right track," said TDW head coach Debby Jones. "I could not be more proud of the players that represented The Dalles."
Mazeski and Wilson carried the team load for the tournament, after losing their opening match against Redmond's Smitz and Hernandez, losing 6-4, 4-6 and 10-5 in the deciding super tiebreaker.
It was a tough early setback by that duo, and Jones said it was especially disappointing to Wilson, who wanted to send her senior partner off on a positive note.
The two regrouped and defeated a team from Hermiston in their first consolation match and then they kept the trend alive the following day by defeating teams from Hood River Valley and Pendleton to reach the consolation finals.

The TDW team got off to a rocky start in the final showdown by losing the first set by a 6-1 margin.

With the heat closing in on 100 degrees, it was going to take a special effort to bounce back and that is just what Mazeski and Wilson had in mind.

The Tribe duo came back strong and won the second set 6-4 to send this contest into a decisive third set.

Mazeski and Wilson were down 4-2 at one point, but they passed another gut check by breaking Hermiston's serve to even the match at 4-apiece.
Later, all four players held serve to bring the match to a third set tiebreaker.

Jones witnessed a spirited moment from Mazeski and Wilson, where the elder statesman turned to her younger partner, looked straight in her eyes and told her "this is no longer about skill, this is about who wants it more and we want this ... let's go do it."

Jones said Wilson shared later that she was a little taken back by the intensity of her senior partner and then the light clicked on.

The two answered the bell with a clean and confident tiebreaker to roll to a 6-1 lead.

Hermiston was not going to go away easy and crept to within 6-4, but with a great serve by Mazeski and a patient rally, the Hermiston player hit the ball long to secure match point for The Dalles.
The win earned TDW two important team points, which put them on the overall district tally board.
"Girls from other teams were the first to congratulate Mazeski and Wilson and that speaks volumes to the quality of people these two girls, as well as the whole team are," Jones said. "I am especially proud of Katie."
In her more than 10-year coaching career, Jones has managed three different sports and exclaimed that Mazeski will always stand out in her mind, saying it is great to see a person like Mazeski have the opportunity to walk away from her high school career winning her last match.

"She is an incredible leader," Jones said of her senior. "So many times, I gave Katie specific responsibilities and she always came through. Katie is without a doubt the leader of our program. The girls followed her direction because they respected and trusted her. Not very many players get that and Katie earned it in every way."
Also for TDW, the doubles team of Emma Ell-Smith and Rebecca Kohltfarber made a good showing in their first district appearance losing by scores of 6-1 and 6-2 to the No. 2 doubles team from Redmond. Then they lost in their consolation match, 8-1, to Pendleton's No. 3 tandem.
Cinthia Vasquez and Abi Herriges ended their high school tennis career in taking a loss to Summit's No. 4 team by a 6-2, 6-1 score.

"(That) was really one of the better matches I've seen Abi and Cinthia play and definitely against one of the tougher teams they've faced," Jones said. "The girls gave it everything they had, but were knocked out of the tournament by Pendleton's No. 2 team."
Itzy Hernandez and Alma Lopez had a very difficult first match opponent in the No. 3 team from Redmond and lost 6-0, 6-0, before having their tournament run end in 8-2 fashion.
On the singles circuit, Anna Miller faced the No. 2 player from Mountain View and lost 6-2, 6-2 to move into the consolation round, where Pendleton's No. 2 player upended her.
MJ Murillo had the worst draw of all of the girls in having to face the overall No. 3 seeded player in the tournament and was defeated 6-0, 6-0.
She bounced back in the consolation round and earned the right to play on Saturday by defeating Bicknell from Hermiston. Murrilo's next match was a loss to Ale Santana, of Redmond.
Shania Lewis put up a good fight against Brenna Roy from Summit but was defeated 6-2, 6-1. The consolation round was a rough road for Lewis as she was defeated 8-0 by Hermiston's No. 1 player.
Louisa Cardenas experienced her first district tournament and gained valuable experience in her loss to Hermiston's No. 2 player by tallies of 6-1, 6-0.
Her consolation run did not last long, however, as she was defeated by Pendleton's Laroios, 8-2.
"The conditions were extremely difficult given the 95 plus degree heat," Jones said. "I was very pleased with the effort and the attitude that they all displayed. It was very easy to see the improvement that had been made over the season and for many of the girls these were the best matches they had played all year."
Jones said that there were many nights when she struggled to find a silver lining to the numerous defeats her team suffered.

She felt that the improvement was there, but the results were not something evident on the scoreboard.
As a program, from the varsity to junior varsity, Jones feels optimistic that her group is turning the corner for the greater good.
"We still have an up hill road a head of us and we need to continue to recruit incoming freshmen players and have those returning players put in the extra time during the off-season," the coach said.
With Mazeski and a handful of seniors set to graduate, Jones will miss their leadership skills.
Through the season, they became closer.
"Respect and encouragement was always given and received and it has been a pleasure to teach each of them," Jones said. "Tennis was the carrot that brought us all together and I feel confident that these six seniors are young women who will make positive contributions throughout their lives."
For more information on TDW tennis, email debbyj@co.wasco.or.us.