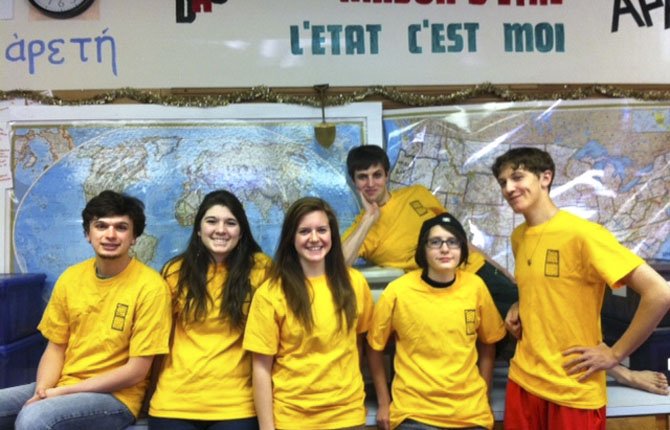 As seniors involved in extracurricular competitions like the Science Bowl and World Quest look forward to graduation next month, they say they hope younger students behind them will take up the torch.
Most of this year's Science Bowl attendees from The Dalles Wahtonka High School were seniors. Michael Morin, George Zenker, Madi Rotter, Lindsey Ellett and Josh Sexton will graduate in June.
The students, under the direction of science teacher Tegner Weiseth, attended the competition in Portland on February 2, 2013. They said they enjoyed being around 250 other students interested in science.
"It was a wonderful opportunity to meet students with similar interests," Rotter said.
Morin called the competition a "metaphysical experience" and Ellett said preparing for it encouraged the team to gain scientific knowledge outside of what was taught in class.
Rotter, Zenker and Morin also joined Cal Eddy, Lauren Talhofer, Dylan Schechtel and Emily Morin for another competition, this time about international affairs.
On Feb. 18 the team traveled to Portland State University for World Quest, an annual knowledge bowl organized by the World Affairs Council of Oregon. Students answered ten rounds of questions focusing on U.S. energy policy, United Nations sustainability goals, geography, current events and other topics. A special round of questions commemorated the 50th anniversary of the Cuban Missile Crisis.
Cuba, incidentally, was the focus of the 2013 World Quest. While at the competition students learned the steps to a traditional fold dance and sampled Cuban Cuisine. International students gave insights into their respective cultures and emphasized the global element of the event.
"World Quest is deeply meaningful to me because I started being involved in the competition at a time when I was just beginning to expand my awareness," Zenker said. "I will always remember World Quest as one of the most influential activities that I have ever experienced."
Teammate Schechtel, who spent the last year in the Czech Republic through the youth rotary exchange, said she was glad to be involved in such a globally-minded gathering. She said it was "refreshing" to spend time with so many people interested in what is happening outside their own communities.