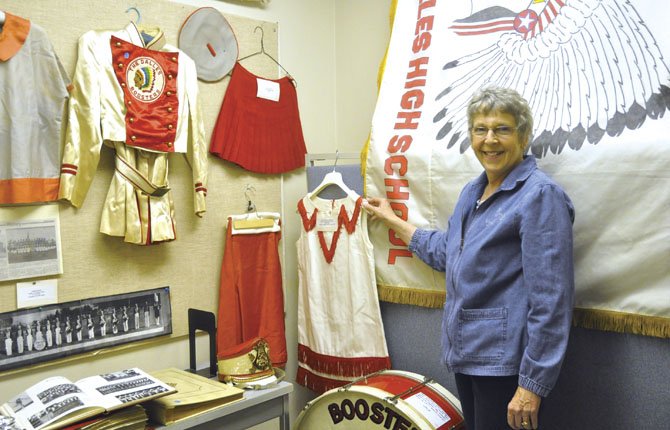 The Dalles — Anyone looking to take a weekend trip down memory lane is sure to be taken back to their school years by a visit to the School District Archive Museum, which opened for the year on May 4.
Visitors might remember their glory days as a football player as they look at old sports uniforms and trophies. They might spot a poster and photos from a play they were in. They might see themselves (or family members) in yearbooks, newspaper articles and class photos from elementary school. Or maybe familiar items like the words to the school fight song — which hung on The Dalles High School gym wall for decades — will bring back memories.
"People love coming," said volunteer Joy Krein. "They're amazed at what they see when they first come in. The first thing everyone does is go look themselves up in the yearbooks, and then look at the trophies and then if they came in with other people for a reunion they just talk and talk and talk."
The museum, housed in the former Wahtonka High School and open from 10 to 3 on Saturdays, May to September, contains memorabilia from the old District 12 and District 9 as well as the newer North Wasco County School District 21.
Krein said she started volunteering at the museum because she was "enthralled" by all of the history she found there, from photos of her father as a football player to a dress exactly like the one she wore during her Booster Girl days.
Volunteer Jerry Commander said he mostly works with the shelves full of trophies, which he tries to repair and keep clean even though "a lot of them are pretty beat up." The championship trophies are kept in the main room of the museum while the rest are organized by year in a separate room.
"Some are just blank," he said of the trophies that have been donated or discovered since the museum opened. "It just says 'conference championship' and we have no idea what year or what sport it is. We try to go through old yearbooks and figure it out."
Sleuthing is an important job of the museum volunteers, who often show up on Saturdays to find someone has anonymously dropped off a box of memorabilia whose origins aren't clear.
Rymmel Lovell, the museum's volunteer curator, said when she receives photos with no names attached she often finds herself trying to judge what yearbooks she should be searching through based on the hairstyles and clothing in the photo. Sometimes she gets her answer when an alumnus comes in and recognizes a classmate.
Lovell was one of the original founders of the museum. It began in 2004, when then-District 12 superintendent Cheryl Crawley asked Lovell to pull together a variety of memorabilia for an event that was a 150 year anniversary celebration of District 12. It also marked the end of District 12, which was dissolved along with District 9 when District 21 was created.
"Each of the schools brought out their archives, and at the end of the party they didn't take them back so I packed them up," Lovell said.
Eventually she brought them out again to create the School District Archive Museum along with memorabilia she collected from the former District 9. District 21 gives the museum a free space at the Wahtonka Campus but Lovell said the museum is run by volunteers separately from the district.
Lovell said the collection grows each year as more alumni donate items. She said alumni also loan the museum items, and she loans items to alumni planning class reunions.
"They're not my things. I'm just the caretaker," she said.
Lovell said the museum is in need of more volunteers so that the current crop doesn't have to be there every Saturday during the summer. She said she is also looking for volunteers for specific projects, such as helping digitize slides.
Commander said the biggest need for memorabilia donations is probably The Dalles High School sports uniforms, which have proven very hard to come by.
"Wahtonka's were all saved, but The Dalles High's, I think they gave them away. We've hear rumors they're somewhere around but we haven't found them yet," Commander said.
Monetary donations for the museum are accepted and go to acid-free archiving paper and other materials to store museum items during the off months.
For more information about the museum or volunteering contact Lovell at tlovell@netcnct.net or 541-296-6546.