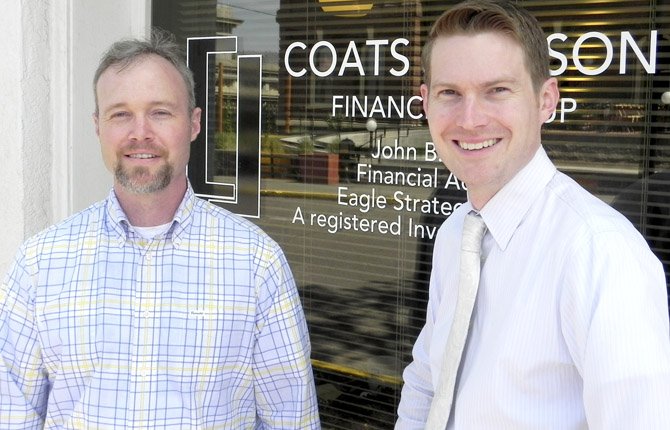 John Coats, an 18-year veteran of financial services and planning with New York Life Insurance Co., has joined forces with David Jackson of Camas to form the Coats Jackson Financial Group.
Coats Jackson will continue to offer New York Life Insurance products. This new venture also provides an opportunity to provide other insurance and investment products through many carriers with the goal of expanding services to ensure the best fit for each client.
Jackson brings strong technical skills to the partnership.
"He's good at keeping up on some of the new trends in the industry," Coats said. In addition, Coats and Jackson will be able to bounce ideas together.
Meanwhile, Coats brings nearly two decades of experience working with clients in the financial services industry, and will soon add new credentials to his resumé.
"I'm getting my master's degree in financial services," Coats said. "I'll have that in November."
Coats will combine that added knowledge with his lengthy experience and skill at listening to and serving clients.
"One thing you have to have is trust," he said. "[To have that trust] you've got to have knowledge and follow up on what you say you will do."
The boutique financial office, located at 101 E. Third St. in The Dalles, is intended to provide more than an expansion of products, said Coats. It is designed to ensure a legacy of continued service to current and future clients.
Having both grown up in Oregon, Coats and Jackson are not only both Oregon State Beavers, they also enjoy many outdoor activities such as hiking, fishing, camping and sailing.
They service client needs across the country from their offices in the Pacific Northwest.
"Many of our national clients appreciate the time and attention we give to identifying their needs, or integrated solutions and product offerings, as well as the Northwest hospitality we provide," Jackson said.
While their industry is portable, they prefer to remain in the Northwest rather than outsourcing and relocating their practice to accommodate larger market demand in other states. They import clients, instead.
"If there is one thing about finance to remember, it is simply to start now, start early and review often," Jackson said. "Finance is about making decisions today that impact tomorrow … Once tomorrow comes there is much less opportunity to create a positive impact toward your goals.
Coats and Jackson invite the public to drop by their offices in The Dalles, or visit their website at www.coatsjackson.com.