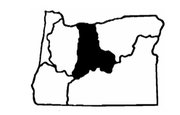 CENTRAL ZONE HUNTING
OPEN: COUGAR, COYOTE. SPRING BEAR, SPRING TURKEY

Spring turkey hunting forecast
Mandatory Reporting
Thanks to all hunters who reported their 2012 tags on time. Hunters who did not report 2012 deer and elk tags on time will pay a $25 penalty fee when they purchase a 2014 hunting license. More information on reporting.
Wolves and coyotes can look alike
Most wolves in the state today are in northeast Oregon but a few have dispersed further west and south. Wolves are protected by state and/or federal law and it is unlawful to shoot them. Coyote hunters need to take extra care to identify their target as wolves can look like coyotes, especially wolf pups in the mid-summer and fall. ODFW appreciates hunters' assistance to establish wolves' presence in Oregon; please report any wolf sightings or wolf sign to ODFW using the online reporting system.
Use the Oregon Hunting Map to see where to hunt.
PRINEVILLE/OCHOCO WILDLIFE DISTRICT
TURKEY: Turkeys may be found from lower elevation private lands all the way up to higher elevation public lands due to the mild winter and spring conditions. Best hunting opportunities, however, will be on the Ochoco National Forest along the South Boundary.
COUGAR are present throughout the Maury, Ochoco, and Grizzly units.The Maury and Ochoco units are recommended because of their greater amounts of public lands and better accessibility. Remember cougars must be checked in at an ODFW office within 10 days of harvest. Please consult the synopsis for all required parts and be sure to call first to make an appointment.
COYOTES offer an exciting challenge and will be closely associated with deer and antelope. Both the Maury and Ochoco have sizeable areas of public lands that provide hunting opportunities. Hunters should use caution, be properly equipped and prepared for whatever the weather might bring.
GROUND SQUIRRELS have emerged and are active in agricultural fields throughout Crook and Jefferson counties. Higher numbers are in Crook County on private lands along the Crooked River between Prineville and Paulina. Permission from landowners is necessary to access and hunt these lands.
THE DALLES WILDLIFE DISTRICT
Bear- Bear season continues through the end of May for spring bear tag holders in the Hood and White River WMUs. Spring bears often prefer foraging on new grasses and forb growth. Bring a good pair of binoculars or spotting scope and glass open south facing hillsides. Predator calling can be productive, particularly if you know a bear is using an area. Successful hunters will need to check in with an ODFW office within 10 days of harvesting your bear. The bear head must be unfrozen, and propping the mouth open with an object will help biologists to remove the tooth necessary for aging.
Turkey - Spring turkey season is open thru May 31. Turkeys typically are found in lower elevations in the Hood and White River WMUs. The White River Wildlife Area is a popular destination for those wishing to hunt turkeys as well as USFS property adjacent to the wildlife area. The Hood River County Forestry land can provide some hunting opportunities in the Hood Unit as well as private timberlands. Be sure to gain permission prior to your hunt. Spring turkey tag holders will need to report if they harvested a turkey or not.
WHITE RIVER WILDLIFE AREA
Vehicle Access: As of January 1, 2013 new rules took effect that prohibit all recreational ATV use on the Wildlife Area, also camping is only allowed in designated camping areas.
A parking permit is now required to use/park on the White River Wildlife Area along with other ODFW wildlife areas.


Bear – Controlled Spring Black Bear Season runs through May 31. Black bear can be found throughout WRWA but are very elusive and hard to find. Search for tracks on dirt or muddy roads to find areas that they are using. Look for food sources. Bears spend much of their time filling up on grasses, acorns, and other food to fatten up after their winter slumber. Remember to check in any harvested bear skulls at an ODFW office. It is best to make an appointment before you take it in.
Turkey – Spring Turkey Season runs through May 31. Turkeys inhabit most of WRWA lands. Use locating calls to find birds roosting in your area. Turkeys can often be found along ridge tops or foraging for food in meadows or oak groves. Be careful and aware that other hunters could possibly be hunting the same turkey that you are after.
Cougar - Open all year or until zone mortality quotas have been met. Look for areas that have recent deer and elk activity. Focus your efforts along migration routes, and along rim rocks and canyons. Look for fresh tracks or kills to increase success. Deer are down on the Wildlife Area for the winter so it is a good area to look for cougars.
Coyote - Hunters should be looking in open areas along the eastern perimeter of the wildlife area. Open fields can provide good calling opportunities on the area.