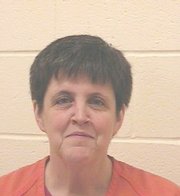 Wasco County District Attorney Eric Nisley is taking steps to put an inmate freed by the sheriff back in jail.
"I did not agree to this; I was not informed of this before it happened; and I strenuously disagree with it," he said.
Lori Fiegenbaum, 51, was released May 8 by Wasco County Sheriff Rick Eiesland after spending less than four months of a one-year sentence in the Northern Oregon Regional Correctional Facilities.
Fiegenbaum was convicted in January of embezzling $94,441.62 from the Columbia Gorge Discovery Center over a five-year period.
"I think everyone's really shocked about it (her release)," said Carolyn Purcell, director of the center. "This is really not what we expected and I guess we'll have to see what happens now."
Eiesland said Fiegenbaum was released because she presented no danger to the community and he needed to reduce the number of inmates in the regional jail.
He said Wasco County pays about $2.1 million per year for juvenile and adult services. On the adult side, the county reserves 50 beds per day to house people accused or convicted of committing crimes. If the inmate count goes beyond that number, Eiesland said the county has to pay $96 per day for each additional bed that is used.
To avoid the added expenditure during a time of budget constraints, Eiesland reviews the records of inmates each day and selects five people to place on an early release list. He said those inmates do not have long criminal histories and are not a danger to the community.
When all 50 beds are filled, Jim Weed, director of the jail, uses the list to determine who goes free.
He said the jail is funded by Wasco, Hood River, Sherman and Gilliam counties and the sheriff of each county has authority over inmates prosecuted for crimes in that area.
Eiesland said on the day that Fiegenbaum — who has not been convicted of other crimes — was released, the inmate count for Wasco County had almost reached the 50-bed limit.
"She made a mistake, but she has been a great worker and caused no problems," he said.
"I made the decision to have her out there getting a job so she can pay back the money she owes and have a productive life again."
He said if Wasco County taxpayers want to invest more money in the jail, he will have the extra funding necessary to ensure that every inmate serves out his or her full sentence.
Nisley declined to comment on his conversation with Eiesland about the situation.
He lost a bid Friday to obtain a warrant for Fiegenbaum's arrest but isn't done trying to correct what he views as an injustice.
Nisley is asking Judge Paul Crowley to order Fiegenbaum to appear in court Monday and show cause why she should be free.
"I consider this a very high priority," he said.
The sentence handed down by Circuit Judge John Wolf in January had Fiegenbaum behind bars for 12 months without any "good time" reduction in the amount of time served.
Nisley said she wasn't incarcerated for a longer period of time because it was important to the economic health of the Discovery Center that the stolen funds be recovered.
However, he said the defendant needed to spend time in jail because she had betrayed a public trust and it was important to hold her accountable.
She repaid $10,000 of the debt in order to be out of jail until her case was resolved.
"Her sentence was probably too lenient, but we were balancing her lack of criminal record, admission of guilt and the desire of the Discovery Center to be made whole, which she could do much more quickly if she only served a year," said Nisley.
Eiesland said Fiegenbaum can now get a job and start paying restitution, which will benefit both her and the Discovery Center.
Crowley denied Nisley's motion for a new arrest warrant Friday because there was no probable cause to show that she had committed a new crime or violated her probation.
In a handwritten note on Nisley's brief that explained his decision, Crowley suggested that "the state might want to request that defendant be ordered to show cause why she should not be returned to jail."
Nisley decided to do exactly that.
"I am contacting the Discovery Center today (Tuesday) to let them know about the situation and what I am trying to do about it," he said.
Fiegenbaum worked at the center from 2005 until early 2012 when she was let go after anomalies in financial statements led auditors from Friend and Reagan CPAs to further scrutinize the books.
Officials at the interpretive site for the Columbia River Gorge National Scenic Area that is also the Wasco County Historical Museum, said reserve funds had to be drained to make up for the loss of revenue caused by Fiegenbaum's theft.