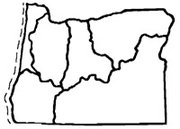 MARINE ZONE FISHING
Saltwater News Bulletins
You can subscribe to receive e-mails and text message alerts for marine topics you are interested in. To sign up go to http://dfw.state.or.us/MRP/bulletins/index.asp and enter your phone for text alerts and e-mail information to subscribe to email updates. It's easy to unsubscribe at any time. Your phone and e-mail information will remain confidential. Six different lists of interest to ocean enthusiasts are available: Bottomfish (recreational), Halibut (recreational), Ocean Salmon (recreational), Ocean Salmon (commercial troll), Commercial Nearshore Groundfish, and Marine Reserves.
Send us your fishing report
We'd love to hear about your recent fishing experience. Send us your own fishing report through ODFW Fishing Reports -- the information will be forwarded to the local biologist who may use it to update various ODFW resources such as the Weekly Recreation Report.
Marine Reserves
Prohibitions at Oregon's marine reserves at Redfish Rocks and Otter Rock are in effect. Fishing, crabbing, clamming, hunting and gathering seaweed are all prohibited. Beach walking, surfing, bird watching, diving and other non-extractive uses continue to be allowed. See complete details and a map of the boundaries of the reserves:
http://www.dfw.state.or.us/MRP/docs/marinereserves/otterrules.pdf
Redfish Rocks Marine Reserve and Marine Protected Area
BOTTOM FISHING
Fishing for rockfish continues to be good with the average rockfish catch at about five or six fish per angler. Lingcod catches are good at all ports surveyed at better than one fish per angler.
Bottom fishing is closed offshore of the 30-fathom line defined by latitude and longitude.
Cabezon retention is prohibited by all anglers until July 1. Retention of cabezon is allowed July 1 through Sept. 30. Under the federal cabezon quota, there is only enough cabezon to be open for two to three months during the busy summer period. When ODFW asked for public input in the fall, many people said they preferred a later season (July-September) over an earlier season. The daily bag and size limits remain the same (one-fish sublimit, 16-inch minimum length).
The marine fish daily bag limit is seven fish (of which no more than one may be a cabezon during the cabezon season). There are separate daily limits for lingcod (two) and flatfish other than Pacific halibut (25).
Remember: yelloweye rockfish and canary rockfish may not be retained.
The Stonewall Bank Yelloweye Rockfish Conservation Area, approximately 15 miles west of Newport, is closed to the harvest of rockfish, lingcod, flatfish and other species in the groundfish group.
OCEAN SALMON
Most of the coast reported chinook catches at about one fish for every five anglers. The exception was Charleston, where five out of 10 anglers landed a chinook.
Fishing for chinook salmon from Cape Falcon to Humbug Mountain is open from March 15 through Oct. 31. All retained chinook salmon must be 24 inches or larger.
Anglers fishing in ocean waters adjacent to Tillamook Bay between Twin Rocks and Pyramid Rock and within the 15 fathom depth contour are reminded that only adipose fin clipped chinook salmon may be retained or on board while fishing.
Salmon season details are now available on the ODFW web site at.
http://www.dfw.state.or.us/MRP/salmon/Regulations/docs/2013_Sport_Ocean_Salmon_Regs.pdf
PACIFIC HALIBUT
Fewer than half of the halibut fishers returned with a fish. The exception was Bandon and Gold Beach where nearly nine out of 10 got their halibut.
Staff Recommended 2013 Pacific Halibut Sport Regulations
The Oregon Fish and Wildlife Commission will make the final decision on the 2013 halibut regulations, including open dates, at their meeting on May 10.
Leadbetter Point, Wash., to Cape Falcon
Spring All-Depth Season: Open May 3, three days per week, Friday-Sunday, through 9,516 pounds or the start of the summer season on Aug. 2.
Cape Falcon to Humbug Mountain
Nearshore Season (Quota = 23,038 pounds)
Open May 2, three days per week (Thursday-Saturday), inside the 40-fathom line (defined by waypoints) through the earlier of 23,038 pounds or Oct. 31.
Spring All-Depth Season: Open May 9-11, May 16-18, May 30-June 1, and June 6-8. Backup days are June 20-22, July 4-6, and July 18-20.
South of Humbug Mountain
Open May 1, seven days per week, through Oct. 31.
The International Pacific Halibut Commission set the annual allowable catch for the West Coast at the same level as last year.
For the most up-to-date information visit: http://dfw.state.or.us/mrp/finfish/halibut/index.asp
SHELLFISH
New for 2012
Limits double on purple varnish calms
Clam diggers may harvest twice as many purple varnish clams in 2013 than they did in previous years. In response to a public proposal, the Oregon Fish and Wildlife Commission increased the daily catch limit for purple varnish clams from 36 per day to 72 per day. Purple Varnish Clams are a non-native species that has become established in several Oregon bays and estuaries over the past decade.
Scallops require report card
Also starting in 2013, divers who harvest rock scallops will be required to report their catch to the Oregon Department of Fish and Wildlife using a free harvest card. Divers will provide important information about this resource to ODFW biologists that will enable them to better manage the resource. Since 1996, ODFW has required similar reporting by all recreational abalone harvesters who complete an annual harvest card. This program helps ODFW biologists understand and monitor the abalone fishery. This same card now includes space for rock scallop harvesters to report their catch. Anyone recreationally harvesting abalone or rock scallops will need to obtain the free abalone and scallop harvest card in addition to an Oregon Shellfish License. The harvest card is easy to get and simple to complete. Limits for abalone and rock scallops remain the same: one per day and five per year for abalone and 24 rock scallops per day.
Divers can get abalone/scallop permits by contacting ODFW Marine Resources Program in Newport 541-867-4741, Charleston 541-888-5515 or Astoria 503-325-2462. For more information visit the ODFW website.
Razor clams
For the tide series of May 8 to 13, razor clam harvesting along the Clatsop Beaches was good. Even with a low tide series that wasn't very large, those harvesters that ventured out came back with mostly limits. During this tide series harvest was once again the best at the Seaside beach areas where numerous large fat clams were taken. Sunset beach was also quite productive. Harvesters averaged more than 13 clams per person in these areas while the rest of the beach areas averaged almost 11 clams per person. Clams harvested were mixed sizes with many clams larger than five inches taken during the beginning of the tide series in the Seaside area and an increase in smaller clams, less than four inches, taken at the end of the series. Many of the clams in Seaside were at the peak of their body condition; some being better than a half pound each.
Water temperatures are above the spawning temperature threshold and there is still a fair amount of food in the surf. This makes the clams show quite readily but also has initiated spawning in some of the larger clams. Spawning has been observed in nearly all the beach areas but most notably in the northern areas. In the southern areas it was not so prevalent that it significantly impact harvesting. Once the spawning becomes widespread the larger clams will not show as readily as they have in the past low tide series.
There was a significant set of clams in 2012 that would be considered small (less than 3 ½ inches) to many harvesters. Therefore harvesters must use extreme caution when digging to only choose the largest shows so as to limit the chances of digging a small clam. Shellfish staff observed wastage rates that are higher than average this time of year. Wastage is the intentional replanting of small or broken clams. A full 80 percent of these replanted clams die due to damage or improper placement.
The next set of low tides begins May 23 and continues through May 30. This is the second largest low-tide series, in both strength and duration, of the year. The successful digging has renewed the interest in many harvesters. Harvesters are reminded to keep accurate count of the clams they have retained and need to keep the first 15 clams they dig regardless of size or condition as per permanent regulations.
Harvesters should pay close attention to the surf forecasts and be on the beach one to two hours before low tide. If the forecast calls for combined seas over 8 or 10 feet, razor clam harvesting can be difficult because the clams tend to show much less in those conditions. When referencing tide tables, Clatsop beach razor clam harvesters should use the tide gauge at the Columbia River entrance.
The entire Oregon coast is open to razor clam harvest.
Recreational shellfish safety status as of May 14:
Mussel harvesting reopened on March 8 from Cape Arago to the California border.
With the reopening, all shellfish harvesting is open along the entire Oregon coast.
The consumption of whole recreationally harvested scallops is not recommended, however. Coastal scallops are not affected by toxin closures when only the adductor muscle is eaten.
The Oregon Department of Agriculture's shellfish safety hotline is toll free and provides the most current information regarding shellfish safety closures. Please call the hotline before harvesting: 1-800-448-2474.
Check out the recreational shellfish pages on the ODFW web site. The pages contain everything you need to know for identifying and harvesting Oregon's clams.
Crabs
Shellfish biologists on the north and south coast report early molting of male Dungeness crab. A recently-molted crab has a softer shell and the meat, while still good to eat, is watery and less dense. You can tell if a crab has recently molted if the section of shell just behind the crab claw gives a little when you pinch it. Many crabbers return soft-shell crabs to the ocean so they can fill out.
In several bays, crabbing has been more productive that crabbing in the ocean. However, during periods of rain, crabbing in bays may slow due to decreased salinity, but boat crabbers can still expect to land a few keepers. The recreational harvest of Dungeness crab in Oregon's bays and estuaries is open year round.
Ocean crabbing has been good. Recreational crabbing in the ocean is open along the entire Oregon coast.
The ODFW crabbing report shows average number of legal-sized Dungeness crab per person in various ports by month over the past couple of years: check it out.
Some sport crabbers have difficulty correctly measuring the minimum size for Dungeness crab, which is 5 3⁄4 inches measured in a straight line across the back immediately in front of, but not including, the points. See an illustration showing the correct measurement.
Marine Viewing
Crab Molts
Shellfish biologists on the north and south coast report early molting of male Dungeness crab. Crabs tend to molt all at once, so great numbers of their old shells can show up on the beach at one time. It can look like a major disaster occurred to the crab population, but it's as natural as kids outgrowing their old shoes.
You can tell the difference between a shell from a molt and a dead crab by looking at the molt line. If you are lucky, you may find a whole exuvia or crab molt. During the molt, the crab leaves even its old gills, antennae, and mouthparts behind. Every detail is there except the crab. For pictures you can visit http://dfw.state.or.us/mrp/shellfish/crab/lifehistory.asp.
In summer months, when Dungeness crab molting activity peaks, ODFW usually receives calls reporting "many dead crab on the beach" which are almost always these molts.
Minus Tides
This is the second largest minus-tide series, in both strength and duration, of the year begins May 23 and continues through May 30. A minus tide is an excellent time to visit tide pools and watch the life that was just a few hours ago under as much as 10 feet of water.
Look for green anemones, hermit crabs, sea urchins, small fish, jelly fish, sea stars, pinkish corraline algae, lime green anemone, dark green sea lettuce, barnacles and other animals of the intertidal region.
There are dozens of good places on the Oregon coast to go tide pooling. Some of the best are in state parks and recreation areas, including Haystack Rocks, Hug Point, Seal Rock, Yachats State Recreation Area (or just about anywhere with 10 miles of Yachats), Strawberry Hill State Wayside, Neptune State Park, Sunset Bay State Park, Cape Arago State Park and Cape Blanco State Park. Yaquina Head Outstanding Natural Area, four miles north of Newport, has outstanding tide pools and rangers on hand to provide tours and answer questions.
Don't turn your back on the ocean because a large wave may get you wet or worse. Also, stay off beach logs! They can roll in the surf and crush you. High surf can make tide pooling on the ocean beaches uncomfortable and dangerous, so try looking for wildlife in the mud flats of coastal bays and rivers. For more information see: http://www.dfw.state.or.us/MRP/shellfish/bayclams/watchable.asp
Birds
Shore birds are still putting on a great show in Oregon's coastal bays and estuaries. Often mud flats will be covered with tens of thousands of shore birds stopping to feed and rest on their way to breeding grounds in the south.
All of Oregon's migratory song birds show up by mid-May.
Amphibians
The amphibian hatch is occurring everywhere in freshwater wetlands along the coast. The best time to visit a wetland is around dusk. Listen for red legged and Pacific chorus frogs.