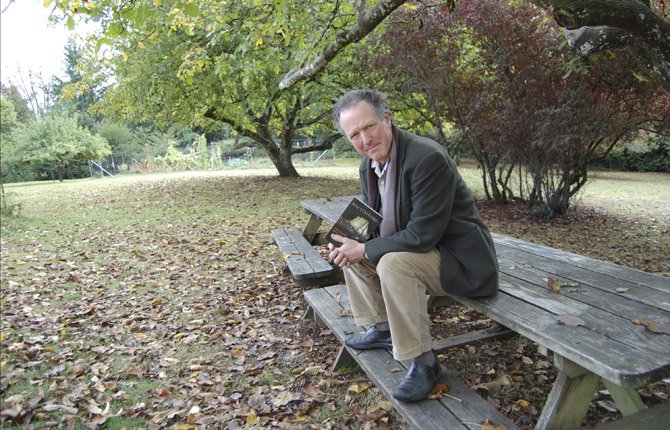 Almost 25 years after author Kim Stafford lost his brother Bret to suicide, he realized his family had lost Bret a second time when they stopped talking about him in order to avoid the painful memories of his death.
"I set out to write the story of how my brother disappeared — from the world, and from my family's conversation — but by writing I find he begins to reappear as a rich dimension in my life," Stafford wrote on the final page of "100 Tricks Every Boy Can Do."
The memoir explores Stafford's memories of his older brother, from their days as inseparable young adventurers to their relationship as adults.
Stafford said sharing his family's heartache with the world wasn't easy, but his goal in writing the book was to show that silence can lead to more pain than sharing.
"Not talking about hard things killed my brother," Stafford said. "His death opened my eyes to suffering that I hadn't seen before in people around me. The remedy, the thing to do, seemed to be to connect more, tell more, reveal more. If it seems scary to tell a secret, it's more scary not to."
He said since his book's publication in 2012 readers have told him that the book inspired them to reach out to family members and discuss difficult subjects like suicide and depression. One reader said he called his brother, whom he hadn't spoken to in 15 years, and they reconnected during a five-day bike trip through New England.
Writing has been a way of processing the world for Stafford ever since an 11th grade teacher gave his class an assignment to keep a journal. It was then Stafford realized writing was a "friend" to which he could pour out his feelings.
He said writing "100 Tricks Every Boy Can Do" helped him regain the feeling of closeness with his brother. Having Bret's manner of death overshadow his life was a "second tragedy" for Stafford, who had always been close to his brother.
"I want to bring the good parts of my brother's life back," he said.
Stafford discusses many of the "good parts" in his memoir. He remembers a cave the boys dug in the back yard and the time Bret's pet snake escaped during a school pet contest.
In other sections of the book Stafford remembers the difficult times, which he looks back on with a fresh eye. He remembers giving a tour of his office to Bret, who was looking for work at the time.
"I was a fool as I babbled about the office," he wrote in his book. "I did not see my brother, notice his quiet in the face of my speech."
It was only after his brother's death shortly thereafter that he realized Bret was feeling like a failure and seeing the things his younger brother had achieved must have compounded the feeling.
For "100 Tricks Boys Can Do" Stafford followed a similar format to a memoir about his father, poet laureate William Stafford, called "Early Morning: Remembering My Father, William Stafford." He spent two years writing a collection of 132 titled memories, which his editor narrowed down to 88, and then he moved them around until he found the order that seemed right.
"My brother's story was something so difficult and mysterious I couldn't write long chapters to explain things," he said.
He said he hoped to show people like his writing students at Lewis and Clark College that writing a book doesn't have to be a huge undertaking—it can be divided, as Stafford's work, into dozens of short pieces written over time.
Writing the memoir has brought Stafford new memories of his brother, as people who knew Bret come forward to talk about him. Bret had connections to the area — he worked as a land use planner in Hood River and was part of a Quaker prayer group in The Dalles — so Stafford said he is looking forward to speaking with people who knew his brother when he comes to visit The Dalles and Hood River next week.
Stafford will have readings at Columbia Gorge Community College's Hood River campus at noon on May 16 and at 5:30 p.m. the same day at Klindt's Booksellers in The Dalles.